Staff Spotlight: Jean Claude Niyonzima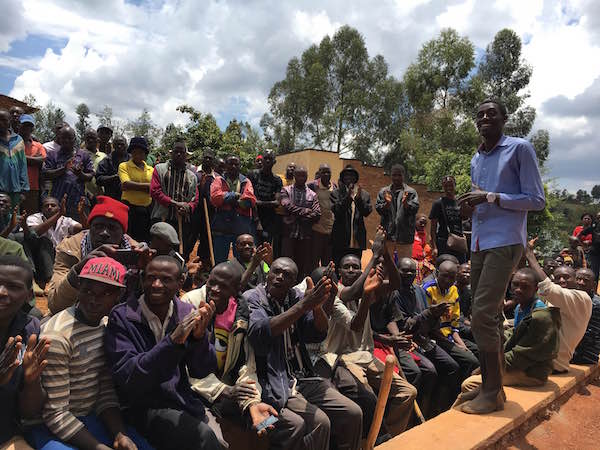 Since 2005, Inshuti Mu Buzima (IMB), Partners In Health's (PIH) sister organization in Rwanda, has supported the cost of school fees for students from vulnerable backgrounds. Little did PIH's leadership suspect that one of these students, Jean Claude Niyonzima, would grow up to play a central role in the construction of the first campus for the University of Global Health Equity (UGHE).
The first in his family to go to school, young Jean Claude was determined to turn his opportunity into success for not just himself, but others. Dedicated to his studies, he earned high marks in secondary school, which led to a government-sponsored scholarship to attend university, and used his free-time to tutor his peers and encourage them to stay in school. Jean Claude mobilized groups of secondary school and university students who had also been supported by PIH's education funding program to build refugee housing, plant gardens, educate younger children, and strengthen their local communities."I was given the opportunity to succeed through education," says Jean Claude. "I want to share my knowledge with others so that they are inspired to realize their potential."
Jean Claude's knack for mobilizing and motivating groups of people lends itself well to his role at UGHE. Trained in civil engineering, Jean Claude uses his strength in interpersonal communication to manage the quality of life for workers onsite, including everything from mediating disputes to discussing plans for the future. His counsel extends beyond Butaro and into the classroom where Jean Claude, an organizer for the Kigali Toastmasters Club, has worked to build critical public speaking skills among students in the MGHD program.
A short walk around the university site and you'll recognize the collaborative environment that has developed amongst Jean Claude and his colleagues. Known to many throughout Burera district, Jean Claude's efforts are not only building momentum around the university, but cultivating a close-knit community.
In 2016, UGHE began the first phase of construction for its permanent campus in Butaro, Rwanda. As Clerk of Works for the University, Jean Claude oversees the day-to-day operations onsite. Prior to joining the UGHE team, Jean Claude served as an assistant and acting construction manager, and site engineer in private and non-governmental settings.