How to Apply
This is a step by step guide on completing UGHE's Pre Admissions Form for the MBBS/MGHD Undergraduate Program. Below are important notes for your reference.
NB: if you have any questions throughout the application process or misplace the link to your form, please email mbbs@ughe.org. A member of the Office of Admissions and Records will get back to you within 48 hours.
The application will be open until at least Early June 2021, pending the release of the Rwanda and Uganda National Examination results. Outstanding items will not be accepted after the submission deadline. Applications without all required attachments are incomplete and will not be evaluated.

Complete eligibility criteria can be found on our website at ughe.org. If you are not eligible to apply, please

DO NOT

submit your pre-admissions form.

Transfer students from other Universities or College are currently not eligible.

Each applicant must submit the following documents along with their application:
Authenticated National Exam Results
English OR French Translated documents,(for International students only)
National ID (Applicants in Rwanda)
PASSPORT (Applicants from Burundi, DRC, Tanzania and Uganda
Important Dates for the MGHD Class of 2027 Admissions Process:
Please be mindful of the following dates. All candidates who advance in the process will be required to sit for an

entrance exam and interview

.

The admissions process is purely

ONLINE

for both local and international applicants. We do not require applicants to travel to Kigali for interviews and examinations.
1. Step 1: Complete mini online application form
To be considered for the MBBS/MGHD Class of 2027, you must complete this mini online application form found on UGHE's website.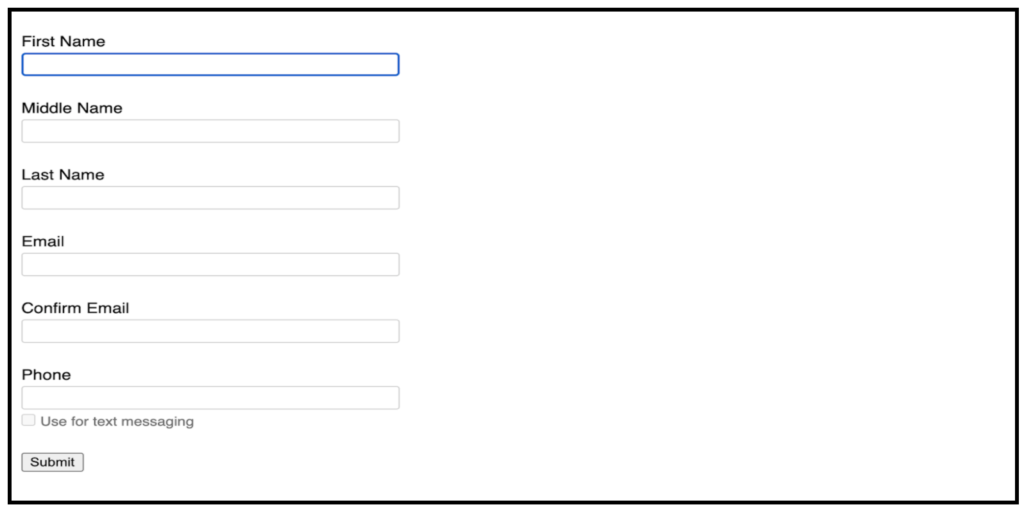 2. Step 2: Receiving an email from UGHE
You will receive an email with a verification link of verifying your email address.

3. Step 3: Verification of email address
After verifying your email address, you will receive this pop up message: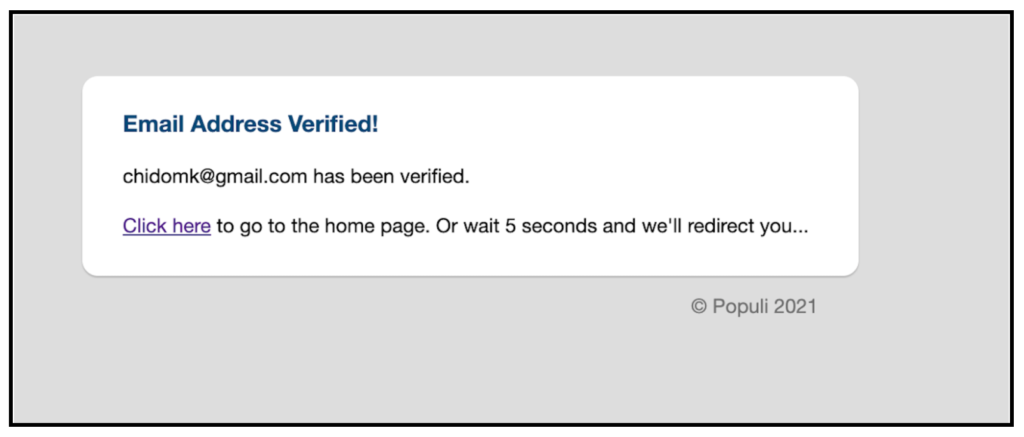 4. Step 4: Notification email
You will receive a notification email from UGHE that will direct you to the application form. Please read these 4 Instructions, which are in the displayed below the application form link:
i.Use the above link to access your application whenever you want to work on
ii. Your application answers are automatically saved when you fill them in.
iii. When you're ready for us to review your application, scroll to the bottom of the page and click Submit Application
iii. If you have any questions, please contact the University of Global Health Equity.
5. Step 5: Click Application form link
After reading these instructions, Please proceed to click the application form link in blue as displayed in the screenshot below: Click here to view your application.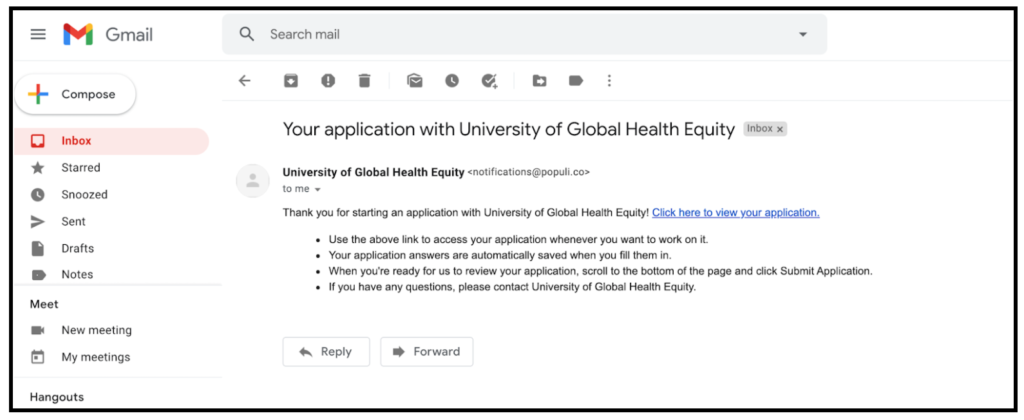 6. Step 6: Pre Admissions Application Form
You will be redirected to the Application form as displayed below: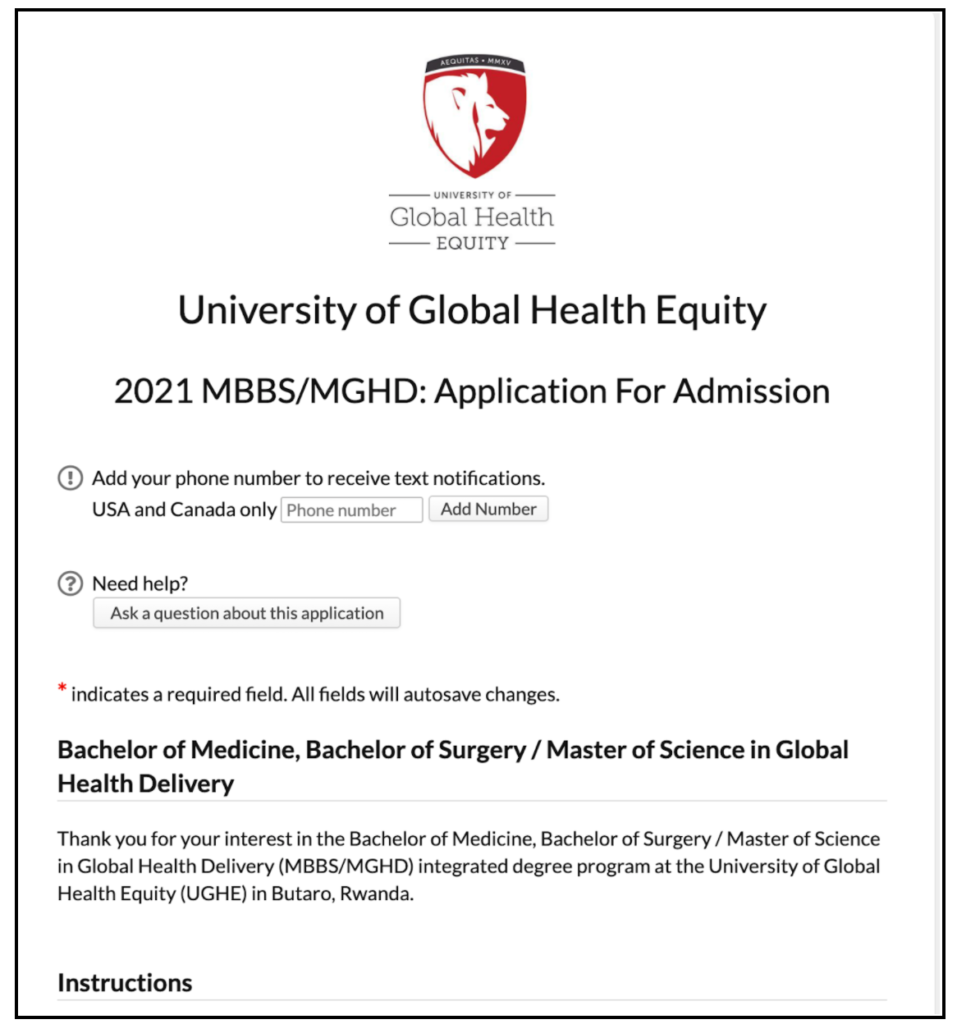 NB: REMEMBER THAT: All populated fields will automatically save in the form. The application does not need to be completed in one sitting. To continue working on your application at a later date, please follow the link that was sent to the email address you provided in your profile.
7. Step 7: Recommendation Letters
You must request 2 recommendation letters in order to submit your application. Once you have populated the fields below, an email request will be sent to the recommender on your behalf, and you will automatically waive the right to access your recommendation letters. Once submitted, please advise your recommenders to look for this email in his/her inbox.
At least 1 of the recommendation letters should come from a teacher or academic advisor. The other recommendation letter can come from a teacher, academic advisor, school administrator, coach, supervisor of extracurricular activities, or anyone else familiar with your academic ability. YOU MAY NOT SUBMIT RECOMMENDATION LETTERS FROM FAMILY MEMBERS.
Please note that recommendation requests will not be sent until you press the "Send" button below each recommender field as indicated.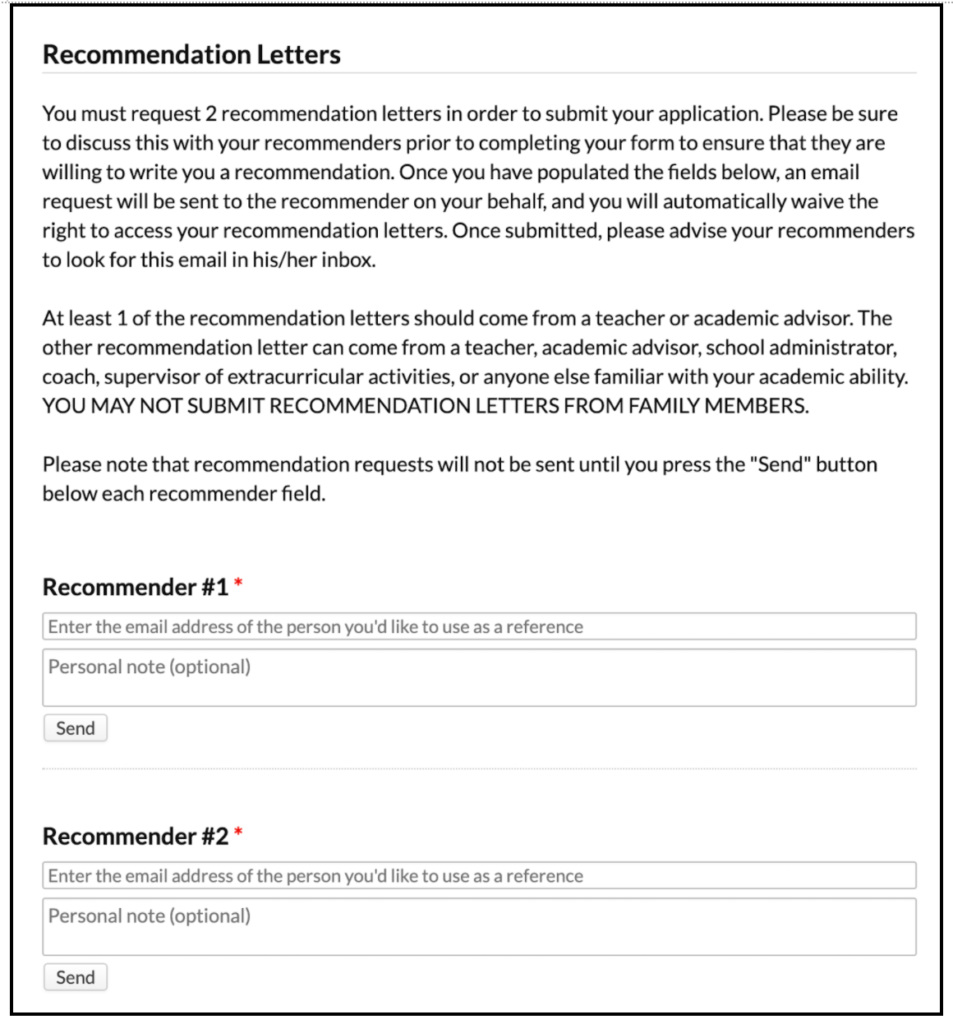 8. Step 8: Supplemental materials
NB: All the documents must be uploaded as PDF files.

9. Step 9: Submitting your Application
When you are ready to submit your application, please click the 'SUBMIT APPLICATION' button at the end of the application. Please DO NOT submit until you have received and uploaded your National Exam results. You may work on other components of the form while you wait for your results.