Implementation Science - Why It's Needed Now, More Than Ever
Free Webinar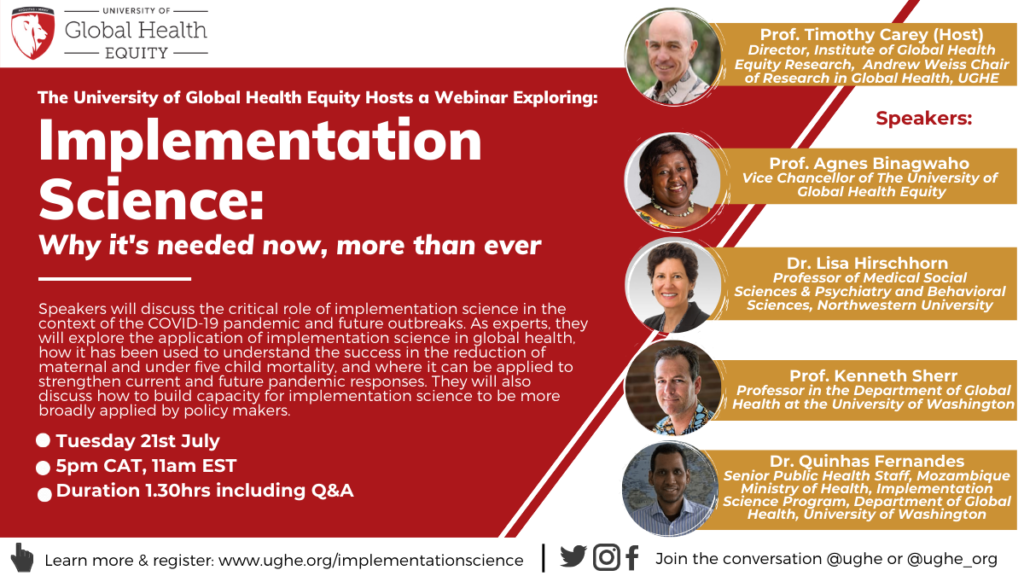 Speakers will discuss the critical role of implementation science in the context of the COVID-19 pandemic and future outbreaks. As experts, they will explore the application of implementation science. in global health, how it has been used to understand the success in the reduction of maternal and under-five child mortality, and where it can be applied to strengthen current and future pandemic responses. They will also discuss how to build capacity for implementation science to be more broadly applied by policymakers.
Date: Tuesday, July 21st
Time: 5PM CAT, 11AM EST
Chair: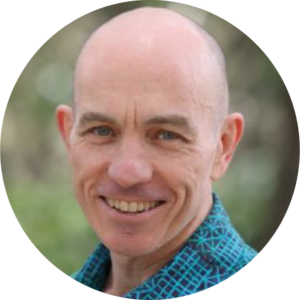 Prof. Timothy Carey — Director, Institute of Global Health Equity Research; Andrew Weiss Chair of Research in Global Health
Professor Timothy Carey is a scientist-practitioner who is a researcher, teacher, trainer, and clinician. He has worked as a clinical psychologist in rural and underserved communities in both Scotland and remote Australia. Tim has a PhD in Clinical Psychology, an MSc in Statistics, and a PostGraduate Certificate in Biostatistics as well as tertiary qualifications in teaching. His most recent academic roles have been Professor and Director of Flinders University's Centre for Remote Health and Charles Darwin University's Professor of Clinical Psychology in Health Equity in Alice Springs, Australia. TIm has served on national grant funding bodies as well as university Human Research Ethics Committees (the Australian equivalent of Institutional Review Boards) and teaches research methods at a postgraduate level. He has also secured research income as a Chief Investigator on competitively funded research projects. Tim is experienced in quantitative and qualitative methods as well as systematic reviews and enjoys using different research methods to answer novel, important, and difficult questions in order improve health services and health service delivery. A central focus of his work is the importance of control to health and wellbeing and recognition of internal conflict as a transdiagnostic explanation of psychological distress. He is also very interested in different cultural explanations of psychological distress and the importance of control cross-culturally. He has pioneered clinical innovations such as patient-led appointment scheduling and patient-perspective care. He has developed an efficient and effective cognitive therapy called the Method of Levels (www.methodoflevels.com.au) as well as a smartphone app called MindSurf. While working in the National Health Service in Scotland Tim led a program of practice-based research that resulted in a reduction in the waiting time to access psychological services from 15 months to less than 2 weeks using the patient-led model of appointment scheduling he had developed. He is a Fulbright Scholar who has over 150 publications including books, book chapters, and peer-reviewed publications. He also has a blog on Psychology Today called In Control where he writes about general topics related to successful and contented day to day living. He is currently working on a book explaining the application of a theory of control to understanding health and social inequity.
Featured speakers: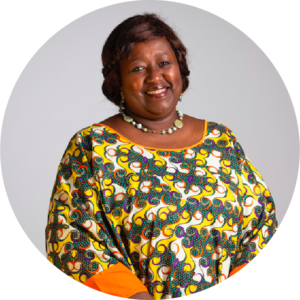 Prof. Agnes Binagwaho — Vice Chancellor, University of Global Health Equity
Professor Agnes Binagwaho, MD, M(Ped), PhD is a Rwandan pediatrician who returned to Rwanda in July of 1996, two years after the 1994 Genocide Against the Tutsi. Since then, she has provided clinical care in the public sector, served the Rwandan Health Sector (2001-2016) in high-level government positions, first as the Executive Secretary of Rwanda's National AIDS Control Commission, then as Permanent Secretary of the Ministry of Health, and 5 years as Minister of Health. She co-founded the University of Global Health Equity (UGHE), an initiative of Partners In Health, which focuses on changing how health care is delivered around the world by training global health professionals who strive to deliver more equitable, quality health services for all.
Professor Binagwaho currently resides in Rwanda and is the Vice Chancellor of the University of Global Health Equity. She is specialized in emergency pediatrics, neonatology, and the treatment of HIV/AIDS. She completed her MD at the Universite Libre de Bruxelles and her MA in Pediatrics at the Universite de Bretagne Occidentale. She was also awarded an Honorary Doctor of Science from Dartmouth College and earned a Doctor of Philosophy from the University of Rwanda College of Medicine.
Professor Binagwaho currently serves as a Senior Advisor to the Director-General of the World Health Organization, and as a member of multiple Advisory Board and Board of Directors including the Rockefeller Foundation Board. She is a member of a number of international working groups and task forces in global health for the United Nations and independent organizations and also sits on the Editorial Board of several scientific journals and serves on multiple scientific commissions.
Previously, she co-chaired the Millennium Development Goal Project Task Force on HIV/AIDS and Access to Essential Medicines for the Secretary-General of the United Nations under the leadership of Professor Jeffrey Sachs (MGGs). Professor Binagwaho also co-chaired the Joint Learning Initiative on Children and HIV/AIDS (JLICA) (2006–09) and founded the Rwandan Pediatric Society, chairing it until 2019. Since 2016, she has been a member of the American National Academy of Medicine and since 2017 a Fellow of the African Academy of Sciences. In 2015, Professor Binagwaho received the annual Roux Prize and Ronald McDonald House Charities Award of Excellence.
She is currently a Senior Lecturer in the Department of Global Health and Social Medicine at Harvard Medical School, a Professor of Pediatrics at UGHE, as well as an Adjunct Clinical Professor of Pediatrics at Dartmouth's Geisel School of Medicine. Professor Binagwaho's academic engagements include research in implementation sciences, research on human rights to health, health services delivery systems strengthening, HIV/AIDS, and pediatric care. She has published over 190 peer-reviewed articles.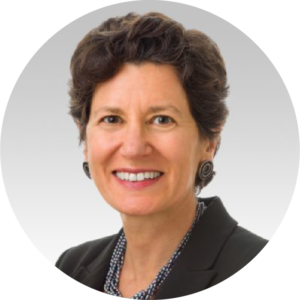 Dr. Lisa Hirschhorn— Professor of Medical Social Sciences & Psychiatry and Behavioral Sciences, Northwestern University
Starting as a public health and researcher and HIV clinician in the 1980's, my research has focused on understanding the causes and developing feasible and effective solutions to the implementation gap and disparities in delivery, outcomes and quality of care in resource limited settings in the US and in Africa. This work started during the 15 years I ran the HIV Medical Care Program at Dimock Community Health Center's HIV Program working to ensure high quality of prevention and care delivered in the community and integrating implementation and improvement science to improve and learn from this work. Relevant recent work has included applying implementation and improvement science methods to identify factors associated with poorer quality, low rates of health system responsiveness and patient-centered care, inequity and outcomes in care in the US and in Africa and the Caribbean, identifying, adapting and testing existing evidence-based interventions to address these gaps. As Director for Implementation and Improvement Sciences at Ariadne Labs, a partnership between Harvard School and Public Health and Brigham and Women's Hospital, I led a team focused on developing more effective approaches to study and support innovative approaches to apply evidence-based practices from initial discovery of simple effective solutions through scale-up to realize the full potential to improve care and reduce suffering and improve patient-centered outcomes and care delivery. At Northwestern Feinberg School of Medicine as Professor in the Departments of Medical Social Sciences and Psychiatry, member of the Third Coast Center for AIDS Research, my current work continues to focus on continuing the work to further apply implementation science methods to effectively measure and improve implementation and quality and effectiveness of care in the US and a number of countries in Africa. Throughout my career, I have been committed to providing training and mentorship for students and junior faculty in the US and in many countries in Africa including Tanzania, Rwanda, and Zimbabwe. I developed and co-led a course focused on building skills to produce scholarly mentored projects for students at Harvard Medical School, serve as a mentor for the Northwestern AOSC program and am co-PI for a newly funded D43 project in Tanzania to build capacity for patient centered outcome research. and have led multiple workshops to build capacity for measurement and interventions to improve quality of care, both technical and patient's experience. Current projects include exploring barriers to pre-exposure prophylaxis for HIV for women in Chicago, primary health care improvement in low and middle income setting, strengthening quality measurement focusing on people-centered care and evaluation of quality improvement collaboratives in Africa.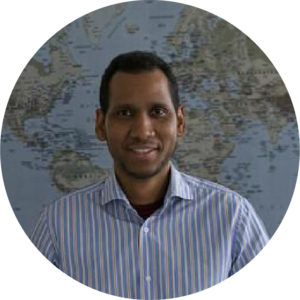 Dr. Quinhas Fernandes — Ministry of Health, Mozambique (Senior Public health staff), Implementation sciences program (Dep. Global Health), University of Washington
Dr. Fernandes has worked across all levels of the health sector in Mozambique since completing his training in medicine in 2002. During his career, he served as Provincial Health Director and Deputy National Director of Public Health at the Mozambique Ministry of Health. Dr. Fernandes has a particular interest in measuring Health Systems Strengthening Impact. Currently is pursuing his Ph.D. in Implementation sciences at UW and is Co-Pi of the Integrated District Evidence to Action program to Improve Maternal, Newborn, and Child Health, which is being implemented in two Mozambique Provinces.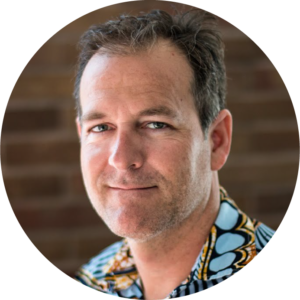 Prof. Kenneth Sherr — Professor, Global Health, Adjunct Professor, Epidemiology, Adjunct Professor, Industrial and Systems Engineering
Kenneth Sherr is a Professor in the Department of Global Health at the University of Washington. Dr. Sherr's research focuses on developing and testing practical solutions to support data-driven decision making and service integration into the Primary Health Care framework to improve health system coverage and quality. Dr. Sherr has led the development of implementation science training curricula at the University of Washington Department of Global Health, including the development of the PhD program in implementation science in 2012. Dr. Sherr received his PhD in Epidemiology and MPH in International Health/Health Services from the University of Washington, and a BA in Anthropology/Sociology from Kenyon College.
Implentation Science Webinar_One Pager