Our Campus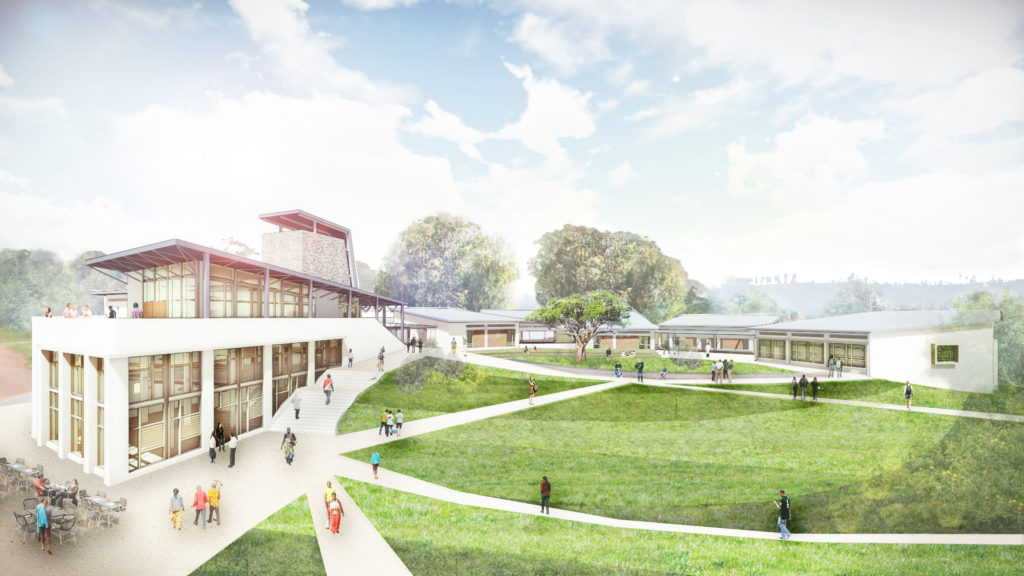 In 2016, UGHE began building the first phase of the Butaro academic campus—one that will become an intellectual hub for the world's best thinkers and innovators in health care delivery. Located 80 miles north of Rwanda's capital city, Kigali, and embedded in a rural primary health care system, the design and location of UGHE's campus will offer students diverse educational opportunities in clinical and delivery settings.
Situated on 100 hectares in the scenic Butaro, UGHE's campus and the adjacent Butaro District Hospital highlight the shared mission of teaching focused on health care delivery. UGHE students will have the opportunity to learn at the iconic Butaro District Hospital and its Cancer Center of Excellence, a modern clinical facility built by Partners In Health and owned and operated by Rwanda's Ministry of Health. Joint teaching programs at the University and the hospital campus will generate community outreach and promote interaction among students, faculty, clinicians and the local community.
The location and layout of UGHE's campus will encourage communication and collaboration across programs. Pathways, nodes and overlaps will integrate gathering space with outdoor classrooms and create a multi-centered facility of interconnected activities.
Teaching spaces will prioritize experiential and problem-based learning over lectures, while classrooms will incorporate the latest technology in virtual learning to connect students and faculty with content from all over the world.
The

Clinical Simulation Center

will be an interactive training facility to ensure students have practice with realistic patient care scenarios. It will include two exam room simulation areas, four control rooms, two debriefing rooms with viewing monitors, and two large flexible studios to simulate a bed ward, labor and delivery room, or procedure room environment.

The

Science Laboratory

will be equipped for diverse laboratory education in the basic sciences, anatomic dissection, and the clinical sciences. In addition to the laboratory, it will include two seminar rooms and two classrooms.

The

Studio Classroom(s)

will include several collaborative working spaces around a central presentation area. They encourage professors and students to create different configurations depending on their needs.

The

Case Room Building

will be equipped with state-of-the art teleconferencing capabilities to facilitate instruction from international experts and clinicians.

The Information Commons will connect students to e-learning tools, an extensive medical library, and regular tech support.

The

Administrative and Dining Building

will include staff and academic offices, a commercial kitchen and dining hall, student shop, and open working spaces and conference rooms.

Our

Student and Faculty Housing

will accommodate up to 200 students, administrators and faculty members. The two- and four-bedroom units include a full-service kitchen or kitchenette, bathroom, living area, and outdoor patio with a breathtaking view of Mount Muhabura. Dormitories are placed in clusters that encourage communal living, and foster stewardship and community within the campus.
The official campus inauguration is expected to be in January 2019. Eventually, an urban campus will be located at the heart of a planned "medical city" in Kigali at Masaka.