Support Our Mission
A Letter From Our Vice Chancellor
Dear Friends and Colleagues,
In 2015, Partners In Health took the first steps in realizing a long-sought aspiration, to create a university that would advance the science of health care delivery and create a cadre of global changemakers. University of Global Health Equity (UGHE) is reimagining health sciences education by rethinking every aspect of a university in the 21st century – from what we teach to how we teach, from our values to our research priorities, from the location and design of our campus to our local and global impact.
Like many PIH initiatives, the vision for UGHE is both exceedingly ambitious and urgently needed. We're proud of what has already been accomplished, including the launch of an innovative Master of Science in Global Health Delivery (MGHD), a growing portfolio of Executive Education certificate courses, and the ongoing construction of UGHE's beautiful future campus in Butaro. In the years to come we envision rapid expansion of undergraduate and graduate programs for health professionals, the development of robust research and innovation centers, and a growing campus that will transform Butaro from a small market town into a vibrant city. These investments will pay social dividends for generations to come.
Your contribution to UGHE will help accelerate this growth. Whether through tuition support for our dedicated students or facilitating infrastructure development, your investment will provide the means – and space – for a new generation of emerging global health leaders poised to transform the world.
Thank you for sharing in our mission, and go Lions!
In solidarity,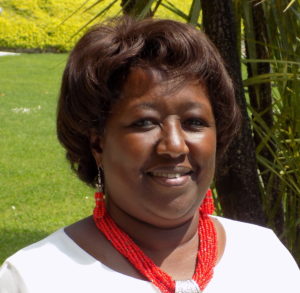 Agnes Binagwaho, MD, M(Ped), PhD
Vice Chancellor
University of Global Health Equity