Alumni Profiles: Eugene Sangano '17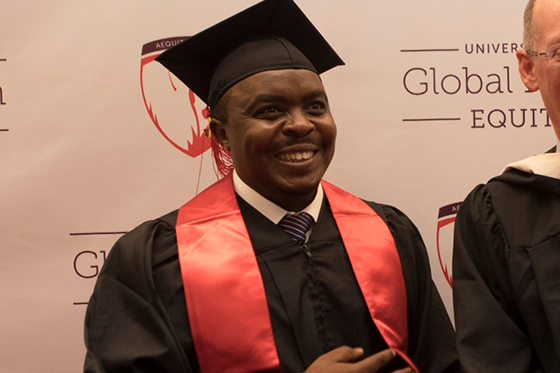 Eugene Sangano, MBA, MGHD '17, was a student in UGHE's pioneering cohort of Master of Science in Global Health Delivery candidates. With over 13 years of professional experience, Eugene has held several roles in the nonprofit sector. We asked Eugene to reflect on his time at UGHE and how it has prepared him for his biggest role yet– co-founding and overseeing the Alliance for Healthy Communities (AHC), an organization that focuses on public health and social welfare.
When I joined UGHE, I was working as Country Director for Drew Cares International, an international NGO in Rwanda, and felt I needed more background in health and public health to be able to effectively advise my team and move programming forward. I first decided on an online Master of Public Health course from a university in the UK–but when I heard about UGHE, I applied there, hoping that I would benefit from the face-to-face interaction with professors and other students, something that was missing in the online program.
My experience at UGHE accomplished exactly what I had hoped it would do for my career–it helped me gain the confidence to understand global health challenges and to come up with innovative solutions. But there was also so much more to my experience that I had not anticipated.
First, UGHE dramatically changed the way I think about public health. In public health, it's popular to refer to populations in terms of statistics, but UGHE challenged me not just to think about reaching 90 percent of the population, but to care about and develop solutions for the remaining 10 percent. I learned the necessity of an equity-centered framework, and that has changed the way I approach my work.
In addition, UGHE opened my eyes to the fact that health is not an isolated matter. The Ministry of Health doesn't work alone. To be able to deliver quality care, you need to have paved roads, infrastructure, human resources, leadership and policies that are going to reach that last ten percent. This changed the way I structured projects to ensure that I'm considering all the social factors that impact health.
Finally, UGHE refreshed my leadership skills in a way that was immediately applicable to my current job–from learning ways to build consensus and motivation on my team and acquiring problem-solving strategies, to positioning myself as an expert to secure funding for life-saving programs. UGHE faculty helped launch me into the next phase of my career–starting and building my own organization, the Alliance for Healthy Communities (AHC), which currently provides HIV prevention and treatment services in Rwanda.
I am so grateful I made the decision to apply to and attend UGHE. I know that it has transformed my career, but more importantly, through training my classmates and me, the University will ultimately help in reaching communities who have been overlooked.