Community Health Workers Are Essential to UGHE's Community-Based Education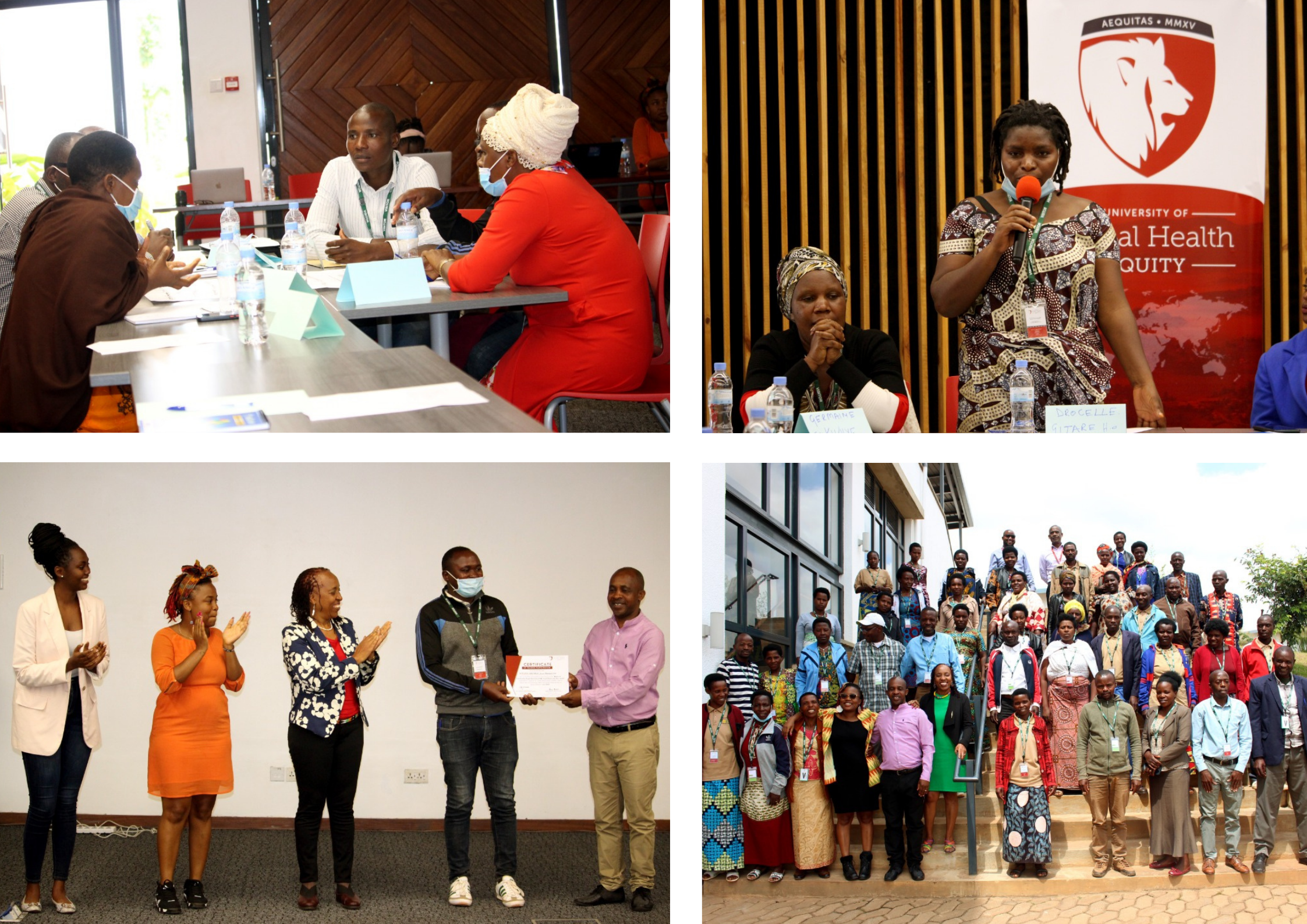 UGHE's Community Health and Social Medicine Department hosted a four-day training for Burera District Community Health Workers, Nurses, Midwives, and health center managers who have played a vital role in the Community-Based Education (CBE) for the last three years.
Community-Based Education is an integral component of the medical curriculum and distinguishes UGHE as a training institution for the next generation of global health professionals able to address the most urgent needs in global healthcare delivery.
From 12th – 25th July, 2022, participants in the training, mostly nurses, midwives, health center managers, and community health workers, reflected on their prior student teaching experiences, explored the role of community learning partners, particularly community health workers, healthcare providers, UGHE students, as well as faculty, and learned how to practically plan and facilitate community-based learning experience effectively.
UGHE emphasizes that education in the health professions should occur within a local context, which must be determined by the health care needs of the local population. Therefore, UGHE medical students need to be able to respond to the needs of the people they serve and improve access to health care, particularly by reaching out to remote and impoverished communities that would not otherwise have access to healthcare.
Through CBE, health care professionals in community hospitals instruct students on how to treat and care for patients, making CBE a meaningful platform for achieving educational relevance to community needs.
The health professionals who participated in the training stated that their participation in the program has enabled them to provide more quality healthcare services in their communities, and that they are now more confident in assisting UGHE's medical students in the Community Based Education teaching.
François Nkurunziza, the head of Gitare Health Centre in Burera District, Northern Province, reflected on the benefits of the training and described how the teaching program benefits students, the community, and healthcare professionals.
"Supporting students to learn from health facilities allows them to visualize concepts learned in class. They learn additional information about the patients they treat and gain knowledge of diseases that affect communities based on their living conditions. This training taught me how to create a curriculum in which students will learn, practice, comprehend the, and be equipped to provide excellent patient care as future physicians."
Jeanne Mukarurangwa is one of the Community Health Workers in Butaro sector who is in charge of maternal and newborn health, commonly referred to as 'Agent de Santé Maternelle – (ASM)' and one of the CBE facilitators – community faculty, who support UGHE's Community Based Education Program.
She reflects on the significance of the CBE program and with passion highlights that it has increased the community's trust in her abilities and effectiveness as a health care giver in her community. She believes that CBE enables UGHE's medical students to become health professionals who are competent in responding to the disproportionate number of health threats affecting the world's most vulnerable communities.
"Being part of the CBE provided us with opportunities to continually improve our skills through training and interaction with students. Our role as community faculty has facilitated our work and reaffirmed our commitment to addressing health disparities in our communities. We are hopeful that medical students who are being trained from the community will become competent, able to impact change in remote and resource constrained settings" she says.
As a recipient of Community-Based Education, Lara Tesi, a medical student from the class of 2025 believes that the course enables her to not only see but also live the lives of her future patients by exposing her to their struggles, beliefs, and culture. It shows them, as future physicians, where their assistance is most needed in the community and how to get there. She discusses the benefits of medical education for healthcare professionals.
"Community healthcare workers are undervalued, even though they are the foundation of community medicine and can be found at all levels of our healthcare system. They have the trust of our patients because they live with them and understand them without the lens of prejudice that our white coats provide. Including them in our CBE allows us to learn from them and, hopefully, incorporate their pearls of wisdom into our own practices. The combination of their people skills and our knowledge would be the most advantageous for Rwanda's health system."
Dr. Florence Akiiki Bitalabeho, UGHE's Assistant Professor and Head of the Godley St. Goar Department of Community Health and Social Medicine, highlights that the role of Community Health Workers (CHWs) is vital in healthcare training.
"Community Health Workers are a vital part of the Community Based Education faculty. Besides what they teach the students in Primary Health Care, they are the connection to the community. CHWs model how to connect to people, community and patients. They are the best role models in communication which is pivotal in being a health care giver. The dedication to patients is inspirational to students and the expertise of CHWs in their communities is an invaluable foundation in health care training and subsequently in health care delivery" she says.
The training sessions concluded with the presentation of certificates. The community health workers planted a tree as a symbol of their renewed hope for a better future and a tribute to the late Dr. Paul Farmer.