Cooking for Social Impact: Emmanuel Dushimimana & the Butaro Campus Kitchen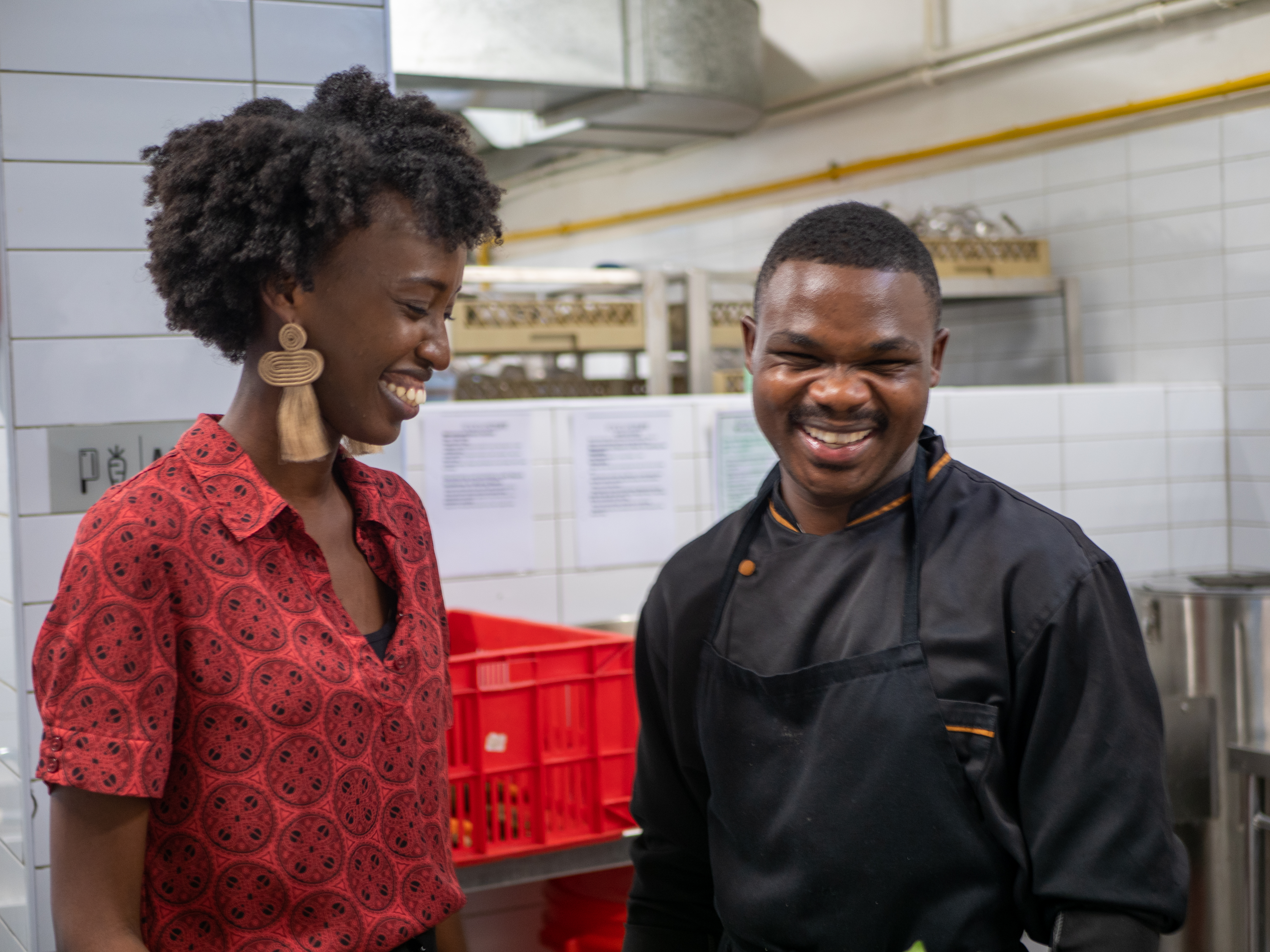 From a very early age, Emmanuel Dushimimana knew he was going to be a chef. He had watched his grandmother cooking pasta for the family, and enjoyed flicking through the pages of Jamie Oliver cookbooks. His break came aged sixteen when, accepted into a school training young students hotel operations, he explored the insides of a professional kitchen for the first time. Later, through an internship in a hotel in Kigali, Rwanda's capital, he familiarized himself with both hospitality and service, before arriving, a trained chef, on UGHE's Butaro Campus during the final phase of its construction in January 2019. He remembers campus inauguration like it was yesterday and, more so, the new kitchen, fully equipped to serve meals to the 120+ staff, students and faculty soon to call this home.
The campus learning environment does not end at the medical curricula. UGHE has provided new training opportunities for Emmanuel, and his colleagues in the kitchen, learning from Head Chef and Bella Twizerimana. Now, the expertise filters down to a new generation. Since his time on campus, Emmanuel has seen many young people from the surrounding area pass through the kitchen swing doors to learn more about the culinary arts from the team of trained chefs in the kitchen. 'They're so passionate.' Emmanuel says with a smile. 'They are progressing well and we have hope that some of them will become excellent chefs, staying here on Butaro campus, or joining hotels in different cities of Rwanda'.
UGHE's Butaro Campus kitchen is, indeed, at one with its surroundings. Set high up in the hills of Burera District in the Northern Province of Rwanda, it's position is deliberate; to facilitate UGHE's partnership with its neighboring communities, and train all UGHE students on the nuances of community health so that they become equity-driven health leaders capable of operating in poor and low-resourced settings. The work of the kitchen furthers UGHE's commitment to the surrounding community by prioritizing ingredients sourced from the immediate local area, including meats, eggs, cream, honey, fresh fruit, and vegetables. This, in turn, supports the income of local farmers, encourages the diversification of crops grown in the area, and, subsequently, boosts the nutritional value of what people eat on campus and in the community. 'I am proud that our efforts in the kitchen can help farmers generate income', says Emmanuel, 'It helps them send their children to school, and get community health insurance, Mutuelle de Sante.'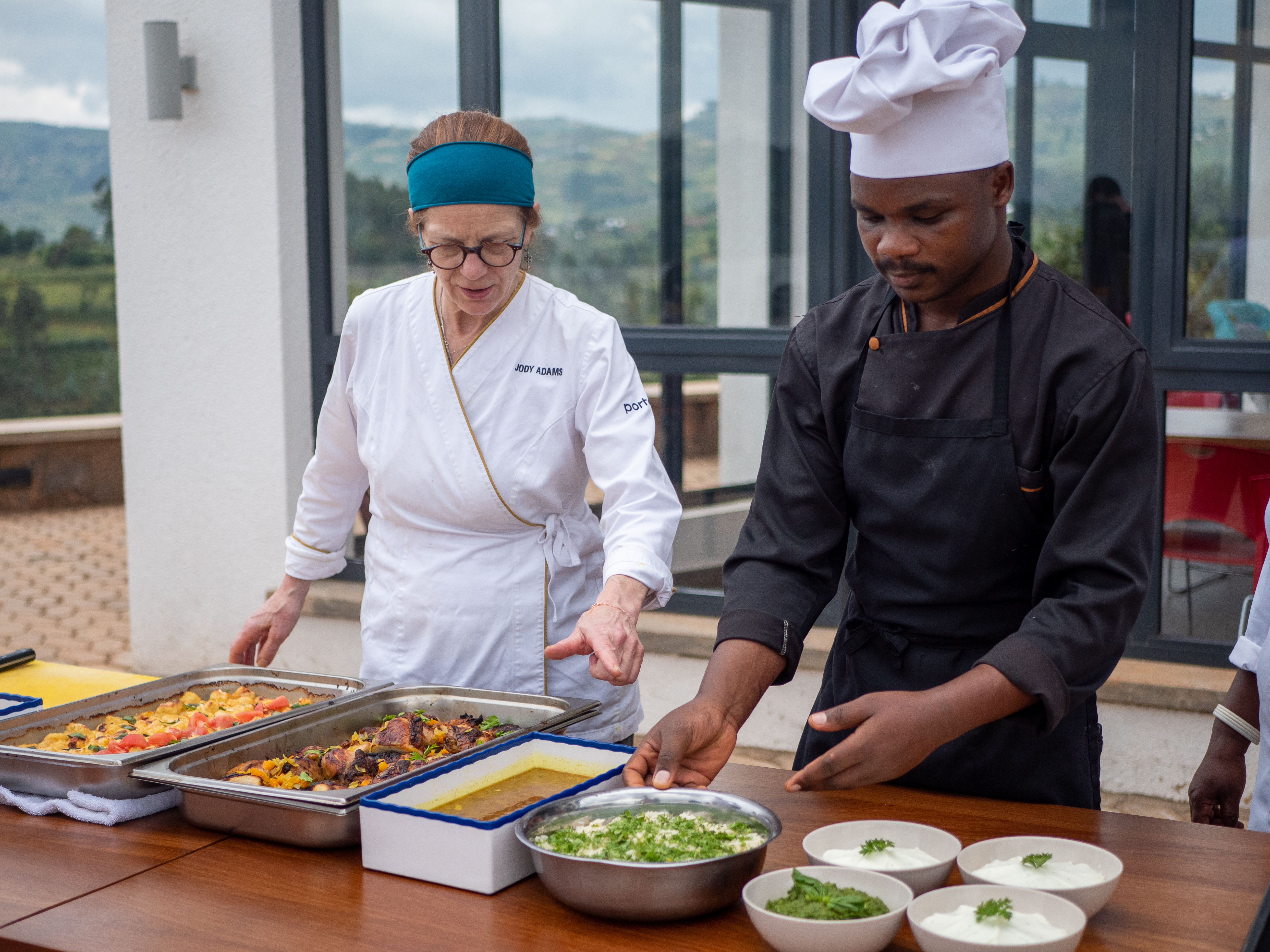 After all, the kitchen's mission goes hand in hand with that of both PIH and UGHE: to ensure that everyone, everywhere, has a healthy and productive life. Food, after all, is vital to good health. Whilst not all ingredients can be sourced within Butaro, the kitchen identifies "food gaps," and how to address them with the simplest, age-old solution: seeds. The local growing efforts will run on a house-to-house basis, as the UGHE team meets with local families to match the right seeds with the right land, develop knowledge about their growth, and support the diversification of crops in the area.
Diversification is also taking place in the kitchen, specifically for the benefit of those queuing up in the dining hall three-times daily. 'UGHE has many people from different backgrounds and we don't want any of them to miss the food from their place of origin.' says Emmanuel. 'So we cook continental and intercontinental food including African, Asian, American, European and more.'
At the start of the COVID-pandemic, Emmanuel and many of his colleagues chose to stay on campus to ensure those remaining on campus – students, staff, faculty and campus workers unable to travel home due to travel restrictions – were fed. In line with an intensified cleaning rota across campus, it was crucial that the kitchen took up the appropriate prevention measure, not only for the Butaro Campus residents, but also the surrounding communities. 'Our meetings with farmers are no longer happening, but we ensure local food sourcing continues, respecting COVID-19 rules.' Explains Emmanuel.
In a post-COVID era, UGHE will launch a dedicated training program on campus focussing on food and beverage capacity-building for the local community, alongside training for front office roles in the hospitality sector, aligning with national priorities to expand Rwanda's tourism and hospitality sector. The hope is that, in the future, the kitchen will be able to open its doors to train Butaro youth with sustainable training programs in cooking, raising livestock, growing vegetables, and more, and continue the legacy of cooking and eating sustainably, whilst supporting vulnerable communities.