COVID-19 and the Workplace: Signolita Umurerwa's Experience at UGHE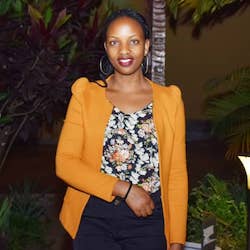 After earning her degree in Accounting, Signolita Umurerwa spent nearly six years serving as a teacher in the International School of Rafiki Foundation, after which she joined UGHE as an Administrative Assistant in the Finance Department.
When Signolita joined UGHE, she was interested in its holistic approach in the area of global health equity and social justice. By joining this institution, she wanted to work collaboratively with other individuals at UGHE to help the institution achieve its goals, sharpen her communication skills and develop empathy towards the vulnerable. She is also interested in UGHE's equitable approach in all its activities. She noted that everyone on staff is treated with respect and care and that everyone at UGHE is engaged to serve and to pay attention to the vulnerable. This has made a drastic change in her profession as it has molded her into someone who works with an eye towards equity.
Signolita doesn't view UGHE as just a workplace where she goes and performs her daily tasks, but also as her platform for training and professional development. UGHE challenges her to become excellent in what she does and pushes her to become a better version of herself. UGHE is preparing and equipping her to provide more helpful and important contributions to solving critical health issues in her circle of influence.
She derives her inspiration to work every day from her passion to be the best at what she does – something that UGHE has instilled in her – and the pleasure that results from effectively completing tasks. UGHE provides her with an opportunity and space to invent new solutions. She is challenged to do more by her colleagues who welcome her ideas without judgment. This has improved her confidence and creativity. The teamwork spirit at UGHE makes the vast majority of the time she spends in the office more enjoyable and it always makes it easy for her to create friendships and bonds with her teammates.
The Covid-19 pandemic has had an effect on how people work at UGHE and across the world. During the pandemic, Signloita was forced to adjust to working remotely from home, utilizing new technology, socially isolating herself from her colleagues, and losing out on physical activities and in-person contact. In order to keep herself and others safe from infection, she had to follow UGHE's procedures, while still working effectively and maintaining virtual contact with her teammates and colleagues. Signolita notes that even though her job has evolved throughout the course of the pandemic, it has not stymied her professional development, as it has provided opportunities for her to acquire new skills and accept new ways of working other than face to face. "I've learnt to be more organized than I was before when I couldn't work from home," she explains. "When I was compelled to work from home due to the pandemic, I learnt how to focus and accomplish my duties on time."