eGlobal Program Fosters Long-lasting Research Partnerships Between UGHE and University of Virginia Students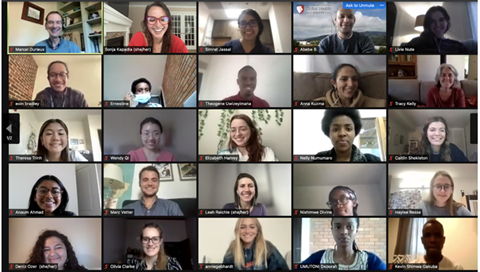 On May 23, 2022, students from the University of Global Health Equity (UGHE) and the University of Virginia (UVA) held an eGlobal virtual research symposium to showcase the research they worked on for a one-year collaborative desk research while developing relationships.
UGHE students collaborate virtually with UVA students on innovative, challenge-based research projects through the eGlobal program. It is a one-year engagement exercise that allows participants to practice international partnerships and gain international perspectives on common health issues. The research projects are diverse and ambitious, addressing a wide range of global health issues such as maternal health, access to affordable medical care, and improving the sexual health of adolescents, among others, whilst providing recommendations to apply health equity and social justice in those areas.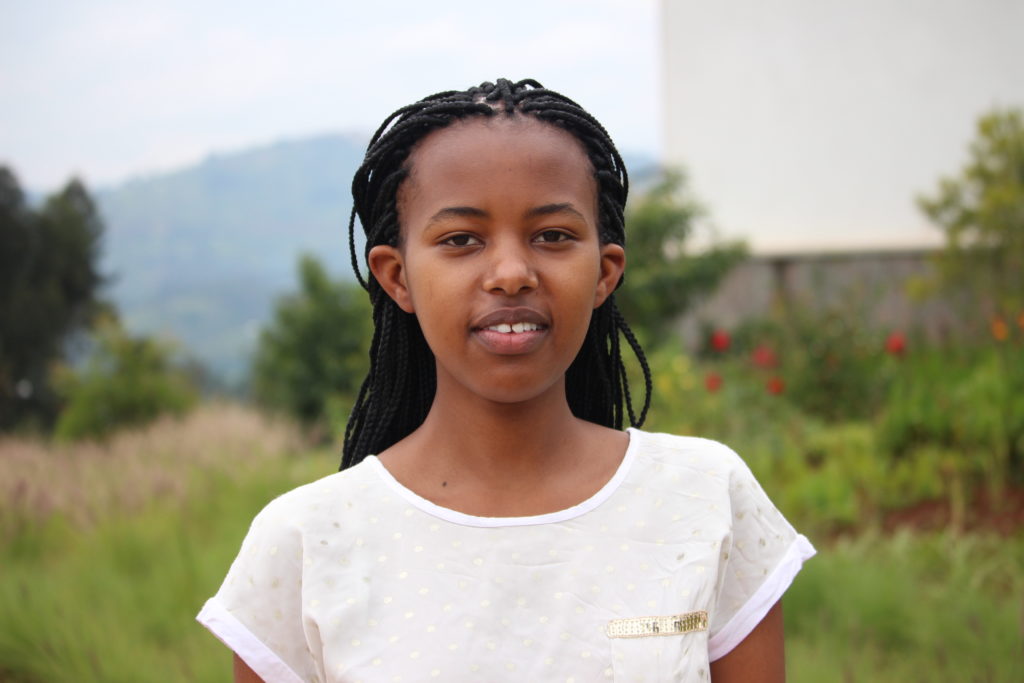 Peer-to-peer collaboration not only exposes students from both universities to new perspectives but also allows them to develop their skills and knowledge as medical students. UGHE's MBBS Student, Merveille Uwihirwe reflects on her experience in the program, "the eGlobal 2021-2022 program has been an excellent opportunity for me to enhance my critical thinking, communication, and collaboration skills with colleagues from different universities, countries, and backgrounds learning from their cultures and discussing the similarities and differences between our countries' healthcare systems that enabled me to view healthcare delivery from a broader perspective. Furthermore, it has improved my research skills, which are critical for me as an aspiring doctor who wants to focus on evidence-based health care provisions in my practice."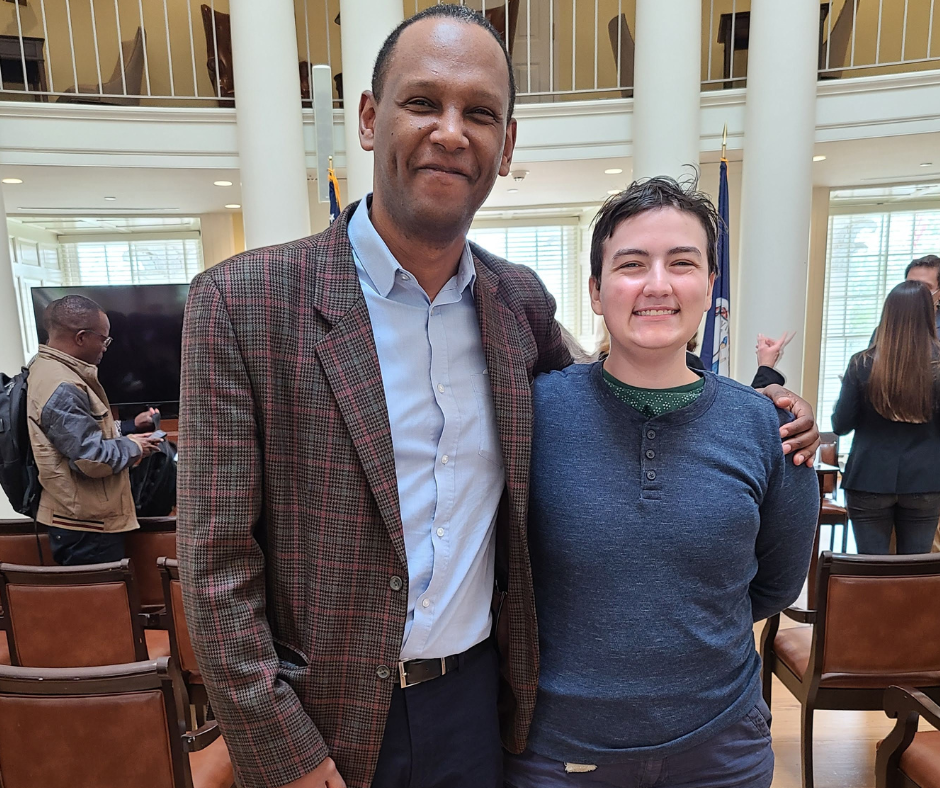 Em Gunter, a Medical Anthropology student at UVA, is one of the students who had an interesting journey to join the eGlobal program. She recalls, "I had read many of the late Dr. Paul Farmer's books, which had changed my career ambitions from being an engineer to working in healthcare. So, without his efforts, I would not have been able to participate in this program. It was a wonderful experience being able to learn about each other's history and culture, which gave me a different perspective. " The eGlobal program serves as a bridge between students from various cultures and backgrounds, instilling in them the cultural competence and skills required in their medical profession to deliver health care and equity. This is essential in preparing them to approach health problems through a biosocial lens, as there are numerous factors that can influence health outcomes.
The virtual partnership allows the students to broaden and grow their research skills on a global scale. This prepares them to develop evidence-based and community-based solutions to improve the quality of healthcare they will provide to their patients, while keeping in mind that patients' health problems and needs differ depending on their countries' health systems, cultures, backgrounds, geographical residence, and economic situations, among other health determinants on which they must consider in order to provide equitable health care.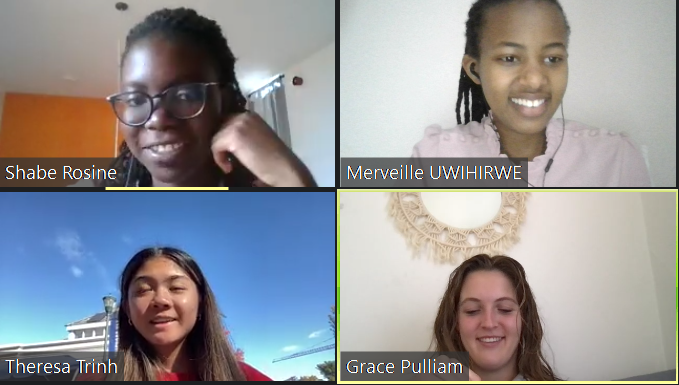 Merveille, a medical student at UGHE, reflects on the implications of the research she and her team members from the United States worked on over the course of the program's one-year duration. "For a health care system to have better outcomes, it must have enough quality and cost-effective medicines," she explains. 'However, without local drug manufacturing to meet national demand, this will be difficult to achieve. As a result, our research project on improving local drug manufacturing in low-income countries will provide a solution to most of the challenges that people in low-income countries face when trying to access quality medicines. More research into local drug manufacturing will raise awareness across multiple sectors, allowing for proper intervention."
Em, on the other hand, discusses her research with UGHE colleagues, saying, "In our study, we looked at maternal health, specifically maternal mortality, in Rwanda, Sierra Leone, and the United States, and we compared the three countries. Our recommendations centered on quality health care standards, which are severely lacking in many areas, and an increase in skilled birth attendants to improve postpartum care as well as the revitalization of secondary health care."
She continues to discuss how UGHE's community-based education inspires her plans to do community-based research whenever the opportunity arises. "UGHE emphasizes a lot of community-based health care education, whereas it is much more classroom and textbook-based in the United States." Dr. Farmer once told us, "If you need heart surgery, you go to the United States, but if you need primary health care, you go to Rwanda." I later learned that he said it's because we don't have a community-based health care model and our current healthcare model is heavily decentralized. I intend to come to Rwanda in 2023 to work on a maternal health research project with my Rwandan colleagues because this will be an excellent opportunity to form a long-term partnership."
This year's eGlobal program was the second since the first was launched in 2020 during the pandemic when global partnerships like these were required to engage students in contributing to the advancement of discovery of innovative solutions needed to combat the Covid-19 threats by building resilient and equitable health systems. Both UGHE and UVA intend to continue the eGlobal program in order to engage students in long-term research collaborations that will allow them to grow in their cultural competence while also addressing the world's pressing disparity issues.