Faculty Spotlight: Alex Coutinho, MD, MPH, MS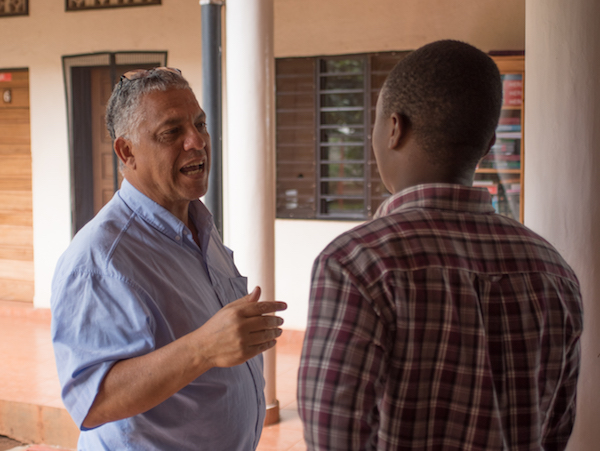 Dr. Alex Coutinho embodies both the mission of Partners In Health (PIH) and the organizations with which he has worked: a deep commitment to ensuring that the world's poor and vulnerable have access to quality health services.
Among the first physicians to identify HIV in Uganda, Alex was a pioneer in the fight against HIV/AIDS in Eastern Africa, estimating that he helped place over 200,000 patients on antiretroviral (ARV) treatment. His three-decade-long career includes leadership roles at the Global Fund to Fight AIDS, Tuberculosis and Malaria, the AIDS Support Organization (TASO), and the Infectious Diseases Institute at Makerere University. Alex currently serves as Executive Director of Inshuti Mu Buzima (IMB), PIH's sister organization in Rwanda.
"IMB prioritizes patients and brings innovative programs to rural populations. That remains very important to me," says Alex, reaffirming his decision to return from retirement – and off the golf field, as he jovially puts it – to work with health care providers in the most remote areas of Rwanda. His proximity to the community serves as a daily reminder that in order to fully address barriers of access to care, one must understand the social and systemic forces that contribute to inequities in care delivery.
Alex recognizes the value of what he calls immersion learning, or, living and working within the communities one seeks to improve—an ideal that he hopes to impart on his colleagues and students alike. Encouraged by the collective benefits of a "living classroom," Alex worked with the University of Global Health Equity (UGHE) to establish the Aequitas Fellowship program. A partnership between IMB and the university, the fellowship program offers international Master of Science in Global Health Delivery (MGHD) candidates the opportunity to work at IMB sites while they pursue their degree. This year, three students from the MGHD Class of 2018 will attend UGHE through this fellowship.
"Linking academic programs with the work done in the field maximizes the impact," Alex reflected. "Our Aequitas Fellows will be attending two universities simultaneously—UGHE and the daily, practical, 'University of PIH/IMB.'"
We are grateful for the diverse expertise Alex brings to our students as a Senior Lecturer at UGHE.