Investigating Biosecurity Measures on Poultry Farms in Rwanda
The rapid growth in the demand for livestock, especially poultry, in developing countries has left many farms vulnerable to disease. Farmers are prioritizing production goals over effective biosecurity practices, risking the introduction of human- and animal-borne disease on farms. In the absence of these measures, livestock and farmers are left defenseless against infections and animal infestations.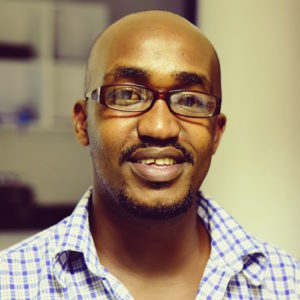 By combining his technical training in veterinary medicine with global health delivery management and leadership skills that UGHE's MGHD provides him, Denis Mayjambere '17 aims to eliminate the risk that a lack of biosecurity measures poses to the success of the farming community and the health of the greater population in Rwanda.
In 2016, Denis was part of a research team tasked with identifying ways to improve poultry production in Rwanda. During his research he noticed many of the poultry farms had a pattern of high mortality rates in poultry due to disease and a lack of biosecurity measures. These losses had significant economic implications, causing many farmers to halt production. After determining that countries with established biosecurity processes experienced lower mortality rates and were protected against pervasive livestock diseases, Denis was determined to improve the implementation of these practices throughout Rwanda. As the foundational step in this effort, Denis will assess biosecurity measures on 30 farms in Kicukiro District, Rwanda, a town located about 100 kilometers outside of Kigali where 59.5% of households practice poultry farming. In his Mentored Practicum, the MGHD's capstone project that tasks students with the design and execution of a self-directed research project, Denis has designed a study that will allow him to understand the degree to which biosecurity is being practiced in Kicukiro. The results of the study will enable him to recommend interventions and training programs that will benefit the farming community.
Denis relies on many of the tools he has acquired through the MGHD program while he is undergoing his research project in Kicukiro. Designed with a biosocial approach, Denis' study is reflective of a careful understanding of the socio-economic context in which the farmers are operating. He has applied the knowledge he has acquired on the study design, data analysis, and evaluation to develop and launch the assessment, while his growing confidence in networking and public speaking will support meetings with key stakeholders as he moves the project forward.
"The MGHD program has provided me with a skillset that transcends my technical training in veterinary medicine by providing me with practical skills in project management, strategic planning, and interpersonal communication that I will utilize during my practicum and my career," explains Denis.
Denis' focus on Kicukiro extends beyond his practicum. When his study is complete, Denis plans to leverage more MGHD skills that he has acquired, including writing a business plan and building partnerships. He will be identifying organizations that will help him disseminate knowledge to farmers who lack access to information on biosecurity practices. For Denis, this assessment is only the beginning of a much longer commitment to raising awareness around the need for implementing biosecurity measures.
"The sampling I collect from Kicukiro will inform the design of disease-mitigating interventions, from training programs to cost-effective processes," Denis shares. "The application of which will extend beyond Kicukiro, beyond Rwanda."