Keeping Campus Safe: Diane Niyotwagira on Fighting Virus Transmission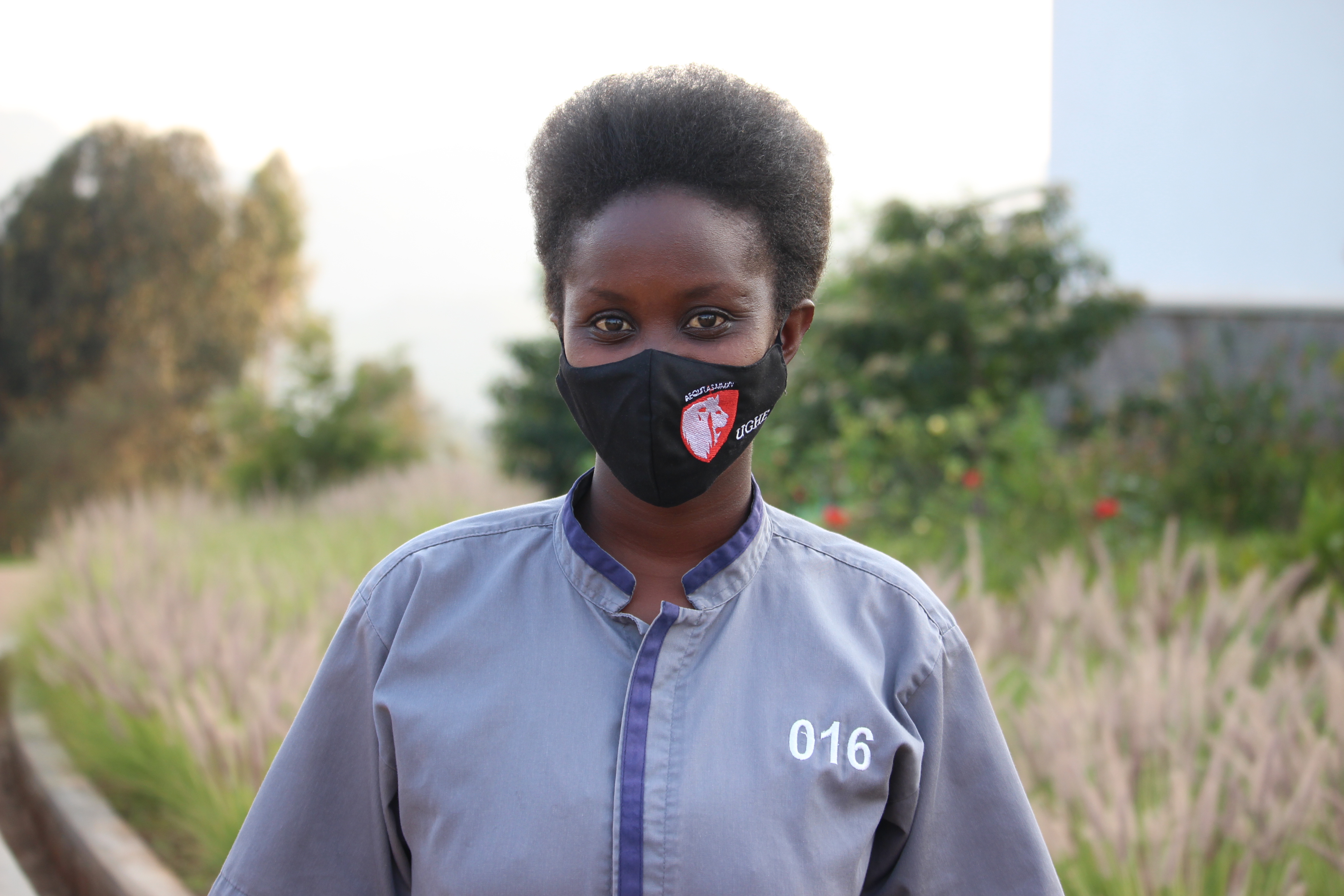 Born in Kigali just one year after the widespread devastation of the 1994 Genocide against the Tutsi, it would be fifteen years until Diane Niyotwagira and her siblings travelled up to Butaro, UGHE's remote and rural home in Northern Province Rwanda, to settle. Now her family live a brief ten minutes walk from the campus itself, its white Imigongo branded buildings a clear local landmark in the surrounding area.
In 2015, just before the completion of her secondary school education, she got news that a new university was planning on building a campus nearby. 'I was very excited to hear that such a globally-facing university was going to put its campus in our rural area', she reflects. Word got out that it would be a health sciences institution, recruiting students from diverse countries around the world. Diane herself was keen to further her studies, but unable to pay the tuition fees, she invested her time in looking for valuable professional opportunities instead.
Positioned at the heart of the communities it trains its students to serve, UGHE from its outset has aimed to forge meaningful partnerships with those living in and around its vicinity. When campus construction began in earnest after the initial ground breaking in 2015, local contractors were recruited from Burera District as a means of opening up employment opportunities and promoting socio-economic impact. UGHE has sustained this pattern of recruiting locally, now with 75% of its contracted campus staff hailing from the surrounding district. 46% of whom are women. Future targets aim to secure 80% staff from Burera district, and at least 50% women.
One of these contractors is Diane. In 2018, hearing from her mother that there were opportunities at UGHE's Campus, she applied, succeeded and now works as a full time member of the UGHE team, supporting cleaning operations and, in turn, ensuring that Butaro Campus remains a vibrant, safe learning environment for all.
And safety is indeed critical. COVID-19's rapid transmission has made the roles of cleaners like Diane absolutely critical to the protection of everyone on campus. 'I understand very well that my role is key to keeping the campus, and those living here safe.' Diane agrees. 'I have improved the way I do my daily work. I used to clean campus chairs, door handles and desks – objects people touch frequently – once a day. Now I do these twice with soap, water and sanitiser. I make sure all washing stations are clean and have soaps.' Diane explains that her responsibility – as a consistent member of the campus team – is also to enforce mask wearing, and safe disposal too. She herself promotes this; 'I always practice social distancing, ensure my mask is worn properly, and wear gloves in my daily work'. She explains. 'It keeps me going to know that myself and others in my profession are critical in curbing the spread of the virus'.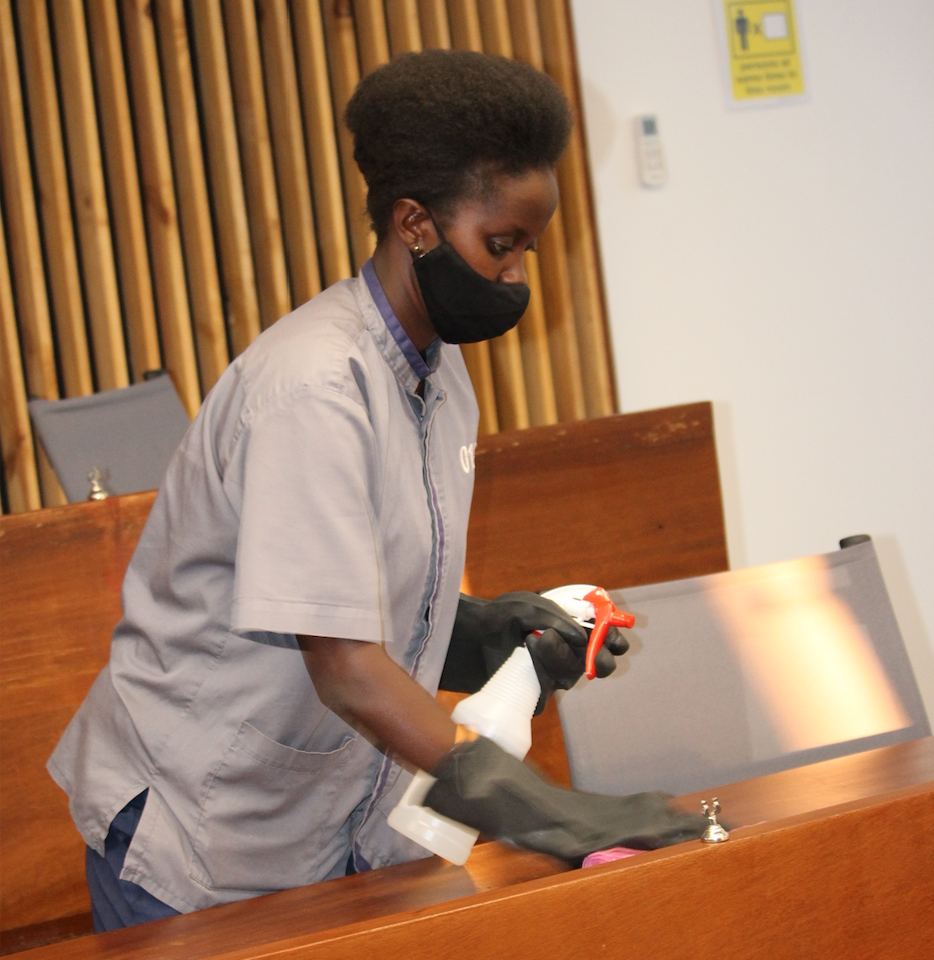 With almost a year now elapsed since COVID became a threat in Rwanda, campus staff like Diane have shown exemplary adaptation to new restrictions, and resilience with intensified cleaning rotas against the backdrop of global uncertainty. Luckily, staff on campus were given the opportunity to prepare early, supported all the way by Campus Operations team, and UGHE Leadership. 'The campus leadership informed us about the virus even before the first case in Rwanda.' Diane explains. 'Preventive measures were immediately taken and my colleagues stayed on campus in rotation, switching on a monthly basis to ensure operations continued as usual'.
Asking her what it was like to be part of this team – in and outside of crisis time – she explains; 'UGHE has already become my family. I like how every staff member in their respective positions respect each other, and there is no discrimination. I freely talk to senior leadership just as I speak to my colleagues.' Inclusivity, a cornerstone of UGHE's equity mission, is built into every level of operations- on and off campus. Diane explains how she and her colleagues are always invited to major events such as Graduation, and she recalls her excitement at listening to a powerful speech by Rwanda's First Lady Mrs Jeanette Kagame, alongside other high profile personalities during the MGHD '19 Commencement on campus.
Most of all, she feels content and secure in her working environment – in part due to UGHE's emphasis on protecting staff roles within a time where, globally, many were losing their jobs. 'I appreciate UGHE's efforts in making sure we did not lose our jobs as is happening in different institutions due to the pandemic, and I am therefore able to continue financially supporting my parents and siblings.' Diane relates. 'It's this culture at UGHE that motivates me daily, and I'm so inspired by my time here so far'.