Student Profiles: Caroline Numuhire '17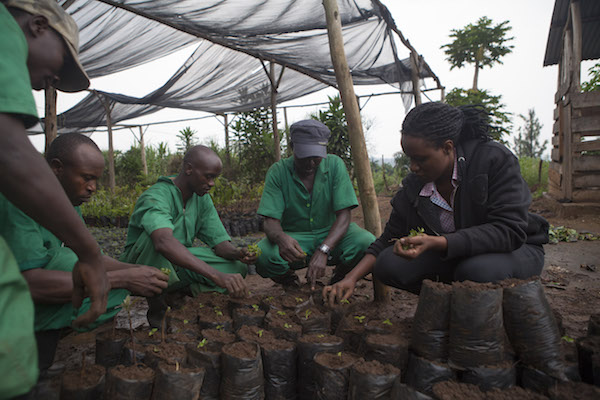 "I use my voice to advocate for the needs of others," says Caroline Numuhire, a member of the Master of Science in Global Health Delivery (MGHD) Class of 2017, proudly describing her commitment as an activist. As she works to amplify the voices of others, she feels empowered to also share her story.
Trained as an agronomist, Caroline spent most of her early career working with rural farmers. As she connected with the farmers, she observed social and economic inequities. Despite prevalent malnutrition in the community, many of the farmers saw their crops as income-generating items, not something to be consumed. While seeking to help these farmers to understand the value and utility of their crops, Caroline recognized that she would need to better understand the connection between agriculture, nutrition, and health, and to strengthen her ability to inspire others and also empower them to lead. To do so, she saw the need for advanced academic training.
Though attending graduate school abroad was a possibility for Caroline, leaving Rwanda meant she would have to leave behind the people whom she wanted to help. The creation of the University of Global Health Equity's (UGHE) part-time MGHD program enabled Caroline to pursue her education while continuing to work alongside communities in which she sought to bring about lasting change.
"I didn't want to attend a master's program just for the credential," Caroline explains. "I wanted to receive a high quality education, one that explored the intersections of health and equity and that challenged me intellectually." Immediately after starting her MGHD degree, Caroline noticed how the experience was shaping her plans for the future. Inspired by the breadth of new information she was exposed to through both her coursework and her dynamic interactions with professors and peers, Caroline was eager to identify new ways she could transfer this knowledge into her career.
After her first year in the MGHD program, Caroline accepted a position with Global Health Corps, a nonprofit that works to promote health equity by placing budding leaders in one-year fellowship positions with organizations throughout Eastern Africa, Southern Africa, and the United States. In her new role, Caroline is able to channel her passion for skill-sharing and her commitment to training members of her community and beyond. As both a mentor and leader, Caroline hopes to serve as an example to her peers, illuminating the many inspiring opportunities that can be generated by a positive change in perspective. She encourages professionals to be open to what they can learn from others, even within their own community.
"It is possible to be born, to study, and to stay in Rwanda," Caroline urges, "to work with and for the community and to make meaningful progress. Change can happen when we learn how to trigger it."
Be it in a rural farming community or among aspiring health leaders, Caroline is determined to be that catalyst.