Student Profiles: Dr. Eugene Tuyishime '17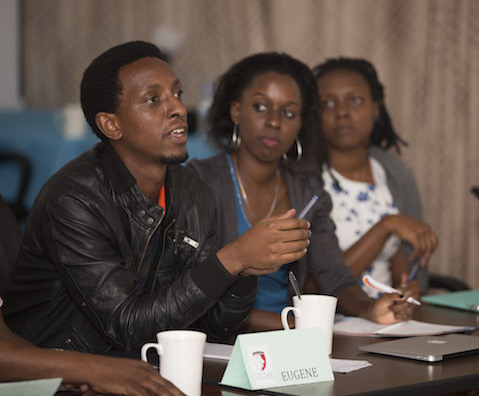 Upon completion of his residency at Centre Hospitalier Universitaire de Kigali, Dr. Eugene Tuyishime will be one of only 14 physician anesthesiologists in Rwanda who serve a population of over 12.6 million people.
Proper anesthesia care is a vital component of life-saving and life-improving surgeries, yet it remains a barrier for many. Complex challenges including geography, availability of medical equipment, and technician skill level too often prohibit patients from receiving adequate, timely care. Recognizing this disparity, Eugene is committed to providing access to quality surgery for everyone by ensuring that practitioners have the skills they need to administer safe, vigilant anesthesia care.
As a pioneer in the expansion of anesthesiology across Rwanda, Eugene continues to strengthen and to improve the field. Eugene works to advance the quality of emergency care services by implementing surgical safety checklists in district hospitals and organizing trainings aimed at strengthening staff competency in spinal anesthesia. As a volunteer facilitator for Safer Anaesthesia From Education (SAFE), he trained multidisciplinary obstetrics teams to provide safer cesarean sections, with a specific focus on anesthesiology.
Eugene is also committed to improving the health system, a vision he is realizing by investing in his colleagues, and himself, through his education. Currently, Eugene balances work and two master's programs, the Master of Science in Global Health Delivery (MGHD) at University of Global Health Equity (UGHE) and a Master of Medicine and Anesthesiology at University of Rwanda. In between school and work, Eugene spends time identifying and addressing gaps in delivery in the field of anesthesiology and the broader health community. He believes that access to knowledge – especially through the provision of trainings for hospital staff – is an essential component to improving health systems. According to Eugene, "As a leader, you aren't just managing an organization, you are inspiring your staff and empowering your community."
The MGHD program has amplified Eugene's commitment to health equity and his desire to expand his knowledge around the complex barriers to health care delivery, as well as fostered his personal and professional growth.
"UGHE has exposed us to new concepts that challenge us to see the world in a different way." Concepts that, he says, are allowing him to be an effective advocate for his community.
Eugene believes that the skills he continues to acquire through the MGHD program will allow him to empower his colleagues and to further support the development – and transformation – of Rwanda's health system.
"As health care practitioners, we must remain committed to breaking down barriers to care," he says. "Indifference was never an option for me."