UGHE Celebrates Graduation of the 8th Cohort of the Master of Science in Global Health Delivery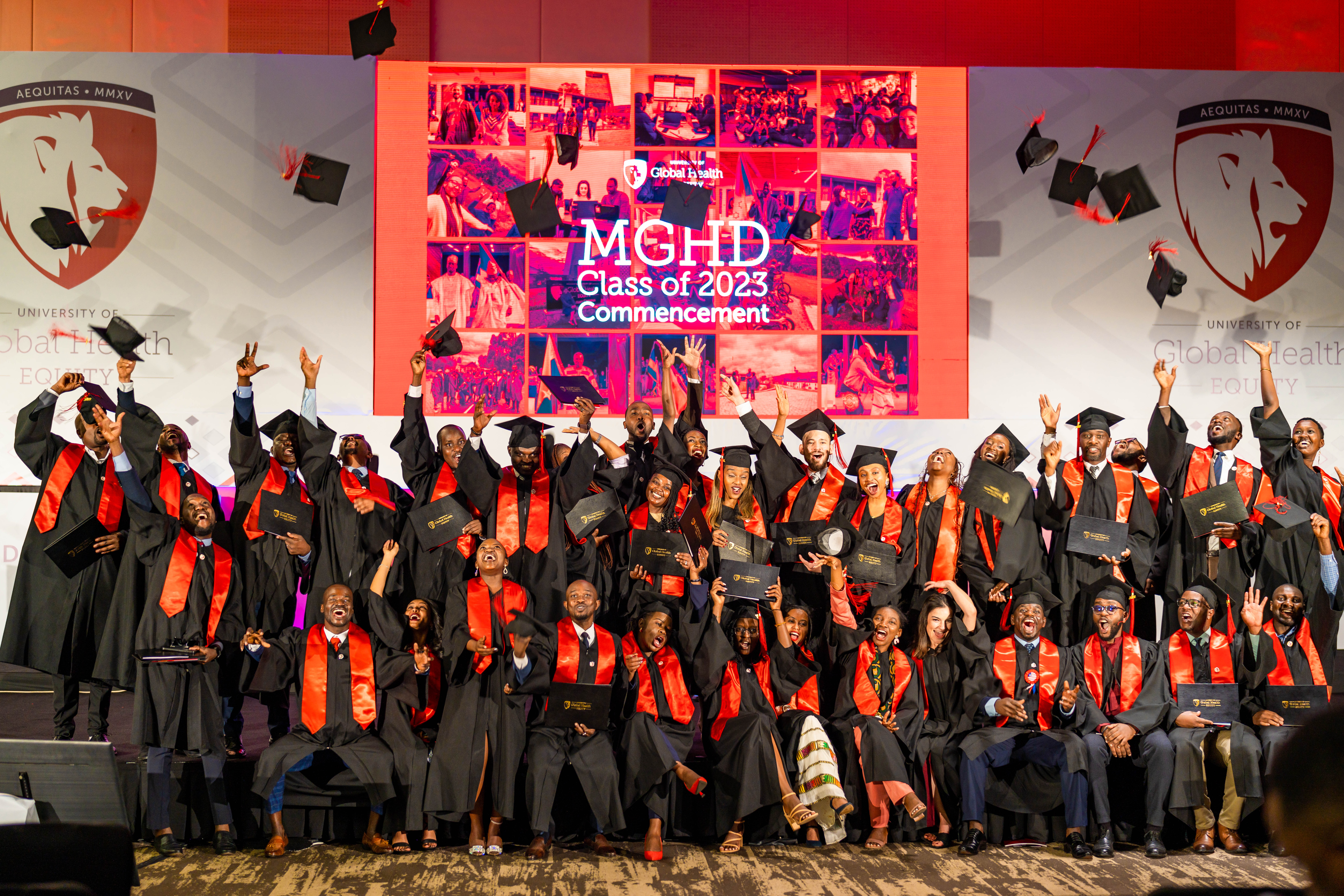 Kigali, August 6, 2023 – The University of Global Health Equity (UGHE) marked a momentous occasion as it celebrated the commencement of its 8th cohort of Master of Science in Global Health Delivery (MGHD) graduates.
The ceremony, held at Kigali Convention Center, brought together families, friends, staff, and guests to celebrate the 46 graduates from 13 countries who are poised to revolutionize healthcare worldwide.
UGHE, an initiative of Partners In Health, has been making significant strides in reimagining healthcare delivery across the globe. With a mission to train the next generation of healthcare professionals to provide equitable and high-quality care for all, especially the most vulnerable, UGHE's impact is both profound and far-reaching.
The 2023 MGHD cohort is a true reflection of UGHE's global vision. Comprising 46 students from 13 different countries, including Burundi, Canada, the Democratic Republic of the Congo, Ethiopia, Kenya, Liberia, Malawi, Nigeria, Rwanda, Syria, Uganda, the United States of America, and Zimbabwe, the class embodies the spirit of collaboration and diversity that UGHE stands for.
The graduates, specializing in Health Management, Gender, Sexual and Reproductive Health, and One Health, have undergone rigorous training in a comprehensive biosocial approach to addressing global health challenges. Under the guidance of esteemed faculty members and renowned experts, they have gained invaluable insights through coursework, field placements, and real-world case studies.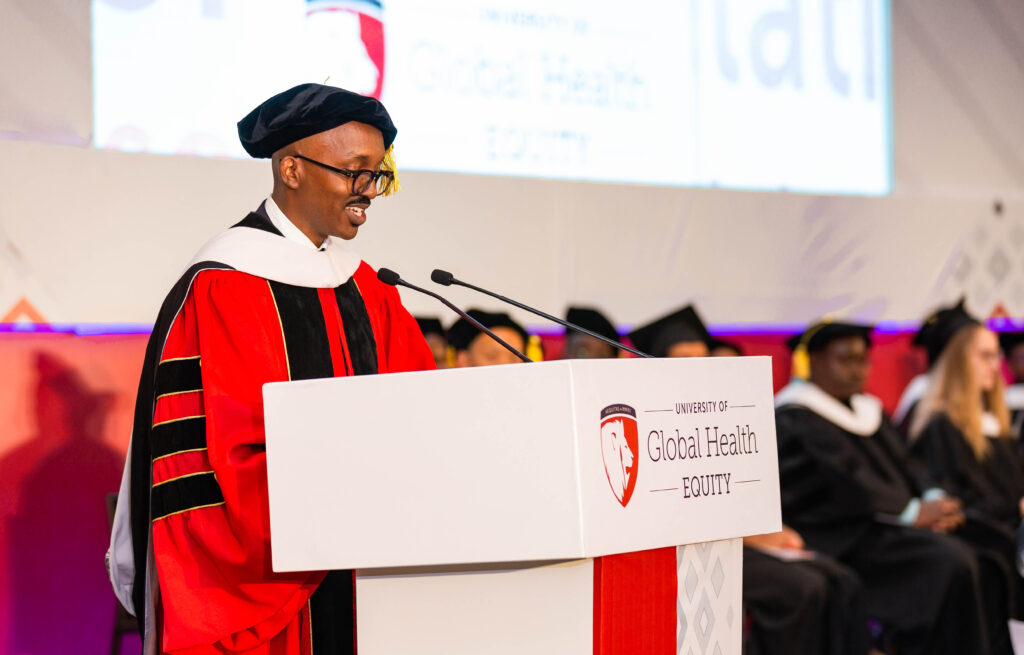 Dr. Joel M. Mubiligi, UGHE Ag-Vice Chancellor, highlighted the importance of their skills in addressing complex health issues: "As these graduates embark on their healthcare careers, they join a global community committed to providing quality care for all. The knowledge and skills they've acquired will empower them to serve with passion and humility, impacting populations for generations to come."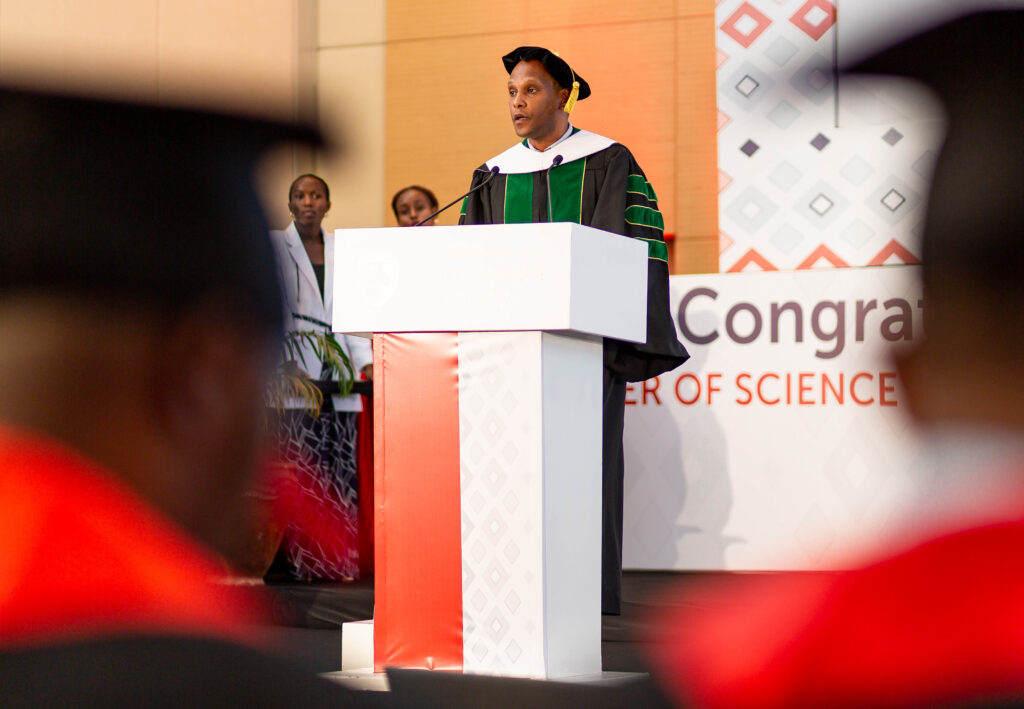 Prof. Abebe Bekele, Dean of the School of Medicine and Health Sciences at UGHE, emphasized the graduates' role as future agents of global health transformation. "In a world where emerging diseases threaten vulnerable lives, the graduates' commitment and competence to advocate for the historically unvoiced and underserved are more critical than ever. They possess the educational tools needed to drive development and innovation in global health systems."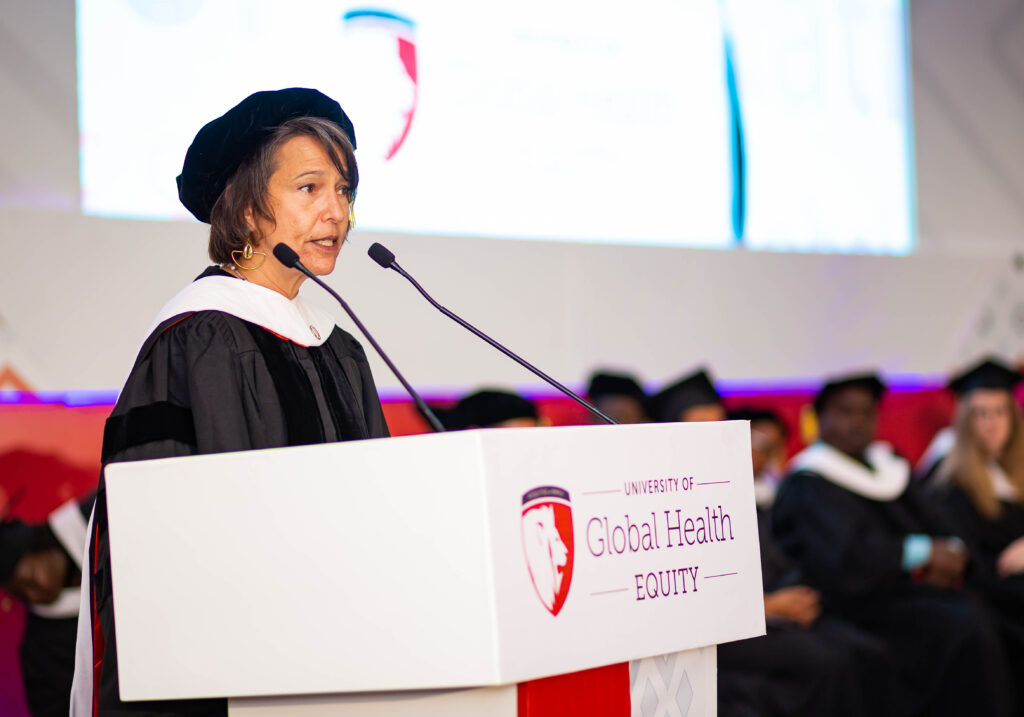 The commencement speaker, Chief Medical Officer of Partners In Health, Dr. Joia Mukherjee encouraged the graduates to implement the quality and equitable health care approaches they have learned. "You join this movement, research how to deliver care and achieve equity, how to manage—not for the sake of a donor report but for the betterment of the health of the people you serve, how to change the interface of humans, animals, and the natural world to bring about a healthy life for all, how to mitigate and improve the forces of gender inequality and their impact on the health people of all genders."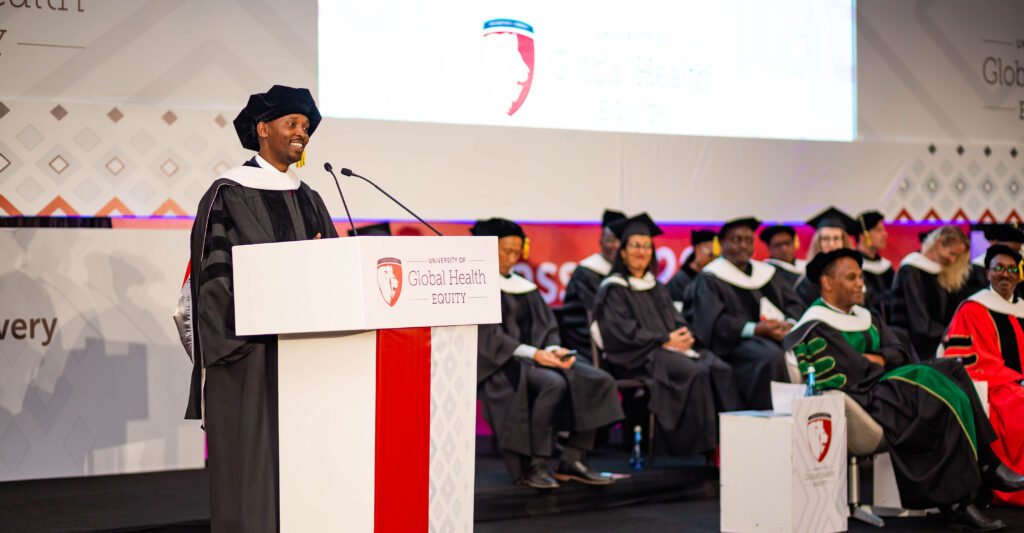 Hon. Minister of Health in Rwanda, Dr. Sabin Nsanzimana, acknowledged UGHE's pivotal role in improving health systems globally. "There are health inequities across the globe. There is a shortage of doctors, nurses, and midwives in resource-limited countries, including Rwanda. In the next four years, Rwanda's Ministry of Health aims to quadruple current health care workforce, and universities like UGHE are playing a big role. Only 2,000 graduate every year, and the number will increase to 8,000. We need to have four professionals per 1,000 people as a global standard."
Reflecting on their journey, graduates expressed their readiness to apply their gained knowledge to real-world health challenges.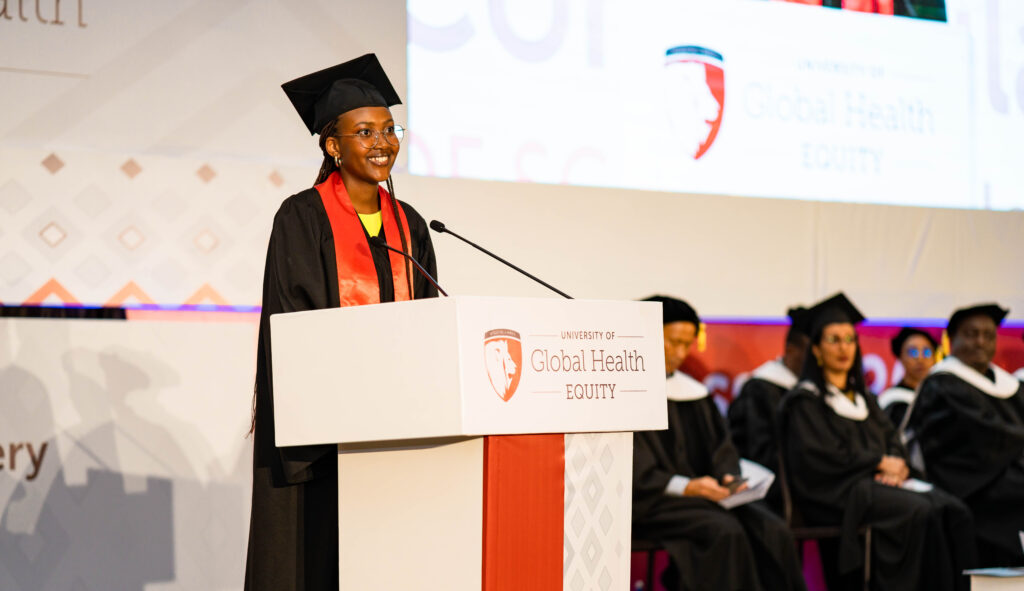 "Throughout the program one of the invaluable lessons we have learned is the undeniable interconnectedness of humans, animals, and the environment. From visiting clinics, mining fields, national parks, and milk collection centers, and learning from district and government officials on disease outbreak preparedness and prevention, being on the field reminded us of our duty to strive for equitable health for all, "said Ruth Zihiga Uwase, MGHD'23 Graduate in One Health.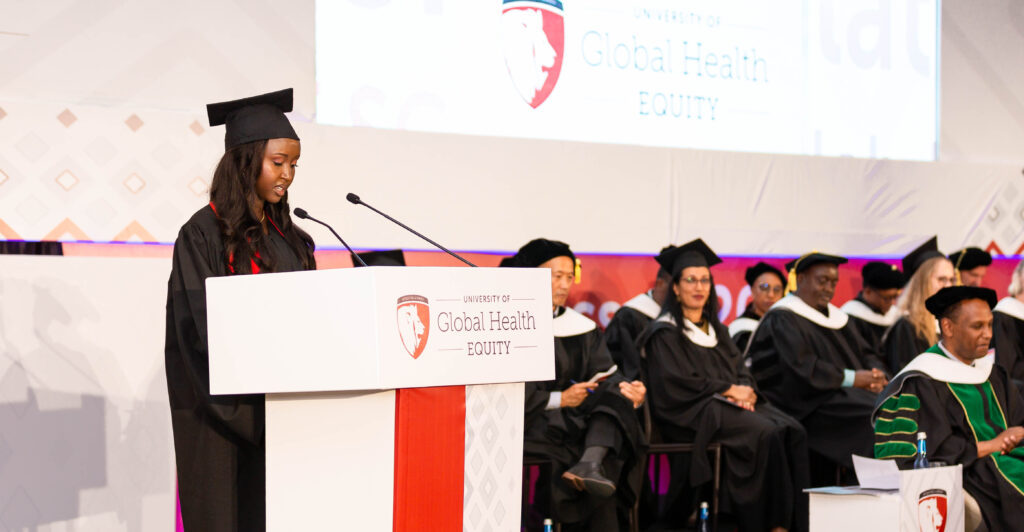 "It is worth acknowledging that our program stands as a beacon of hope, the only Gender, Sexual, and Reproductive Health program in Africa, demonstrating the commitment to addressing the unique challenges and opportunities that our continent presents. We learned to venture into the often-overlooked corners of our world and proudly stand beside those who face marginalization," remarked Peace Iraguha, MGHD'23 Graduate in Gender, Sexual and Reproductive Health.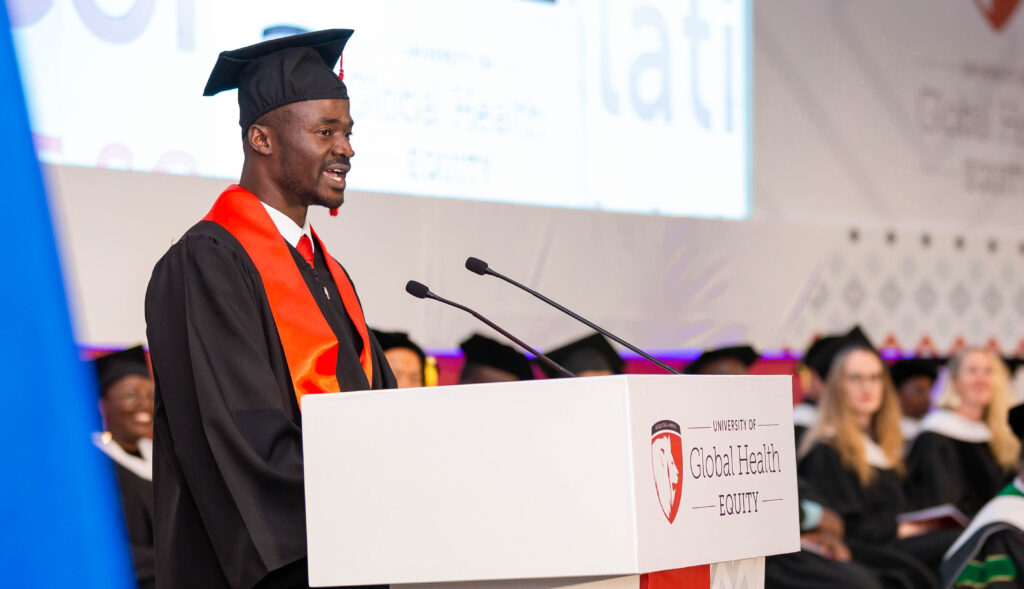 "One of the key lessons I learned was the immense value of unity, diversity, and mutuality. Working alongside classmates from diverse backgrounds and cultures exposed me to a wide range of perspectives, ideas, and approaches to addressing global health challenges. I also learned how to apply evidence-based and field-tested managerial functions to manage complex programs and organizations in the field of global health, "reflected Anthony C. Kwarbo, MGHD'23 Graduate in Health Management.
The comprehensive research practicum further equipped students with hands-on research skills, enabling them to design, implement, manage, analyze, and disseminate research findings. The diverse tracks offered within the program granted students a deep dive into core health challenges and targeted solutions.
As the graduates venture into the field of healthcare, their collective commitment to creating partnerships, driving innovation, and prioritizing people's needs promises a brighter future for global health. UGHE's MGHD program continues to stand as a beacon of hope, producing leaders who are ready to navigate the complex landscape of healthcare delivery and make a tangible impact on the well-being of populations worldwide.
The MGHD program is central to UGHE's mission and vision of reimagining healthcare delivery. This innovative program has enabled 182 alumni to work in various roles supporting ministries of health as advisors, managing NGO projects, and consulting for multilateral institutions such as the World Health Organization.
The Master of Science in Global Health Delivery (MGHD) is UGHE's flagship academic program. Modeled after a similar program at Harvard Medical School, the MGHD provides a one-of-a-kind learning experience fundamentally rooted in the principles of global health, One Health, epidemiology, global health policy, management, health finance, and leadership.
UGHE's commitment to excellence has garnered recognition on the international stage. The university was ranked 8th in the Sub-Saharan Africa University Rankings by Times Higher Education in 2023. UGHE's innovative approach to health education has also been acknowledged with prestigious awards, including the ASPIRE-to-Excellence Award in health professions education from the Association of Medical Education of Europe and the Wharton-QS Reimagine Education Awards which solidifies its place as a global force in improving healthcare education and delivery.
UGHE's dedication to excellence in healthcare education has been further underscored by the accreditation of its School of Medicine by the East African Council of Higher Education, marking a significant milestone in the institution's journey to impact healthcare across the East African Community member countries.
*All Photos credit: Serrah Galos for UGHE
A Gallery of Photos
The MGHD'23 Graduation Ceremony in Other News:
KT Press
UGHE Graduates 8th Cohort of Master of Science Program in Colourful Ceremony
Video: UGHE graduates 46 in Master's program in colourful ceremony
The New Times
46 graduate with Master of Science in Global Health delivery at UGHE
Taarifa
University of Global Health Equity Graduates Its Eighth Cohort From The Master of Science In Global Health Delivery Program
RBA – Rwanda Broadcasting Agency
Rwanda plans on quadrupling the number of graduates in medicine and nursing within 4 years
The EastAfrican
UGHE celebrates graduation of 8th Cohort of the Master of Science in Global Health Delivery
Kigali Today
Abarangije muri Kaminuza ya Global Health Equity barizeza umusanzu wabo mu kwita ku buzima