UGHE Graduates First Class of Global Health Leaders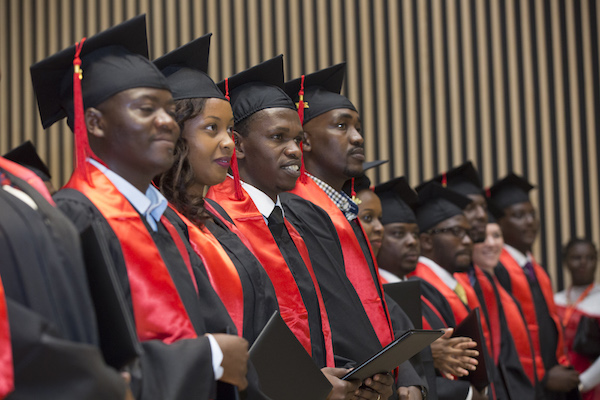 Kigali, Rwanda – University of Global Health Equity (UGHE) graduated the first class of Master of Science in Global Health Delivery (MGHD) students on 27 May 2017, yielding a new generation of health professionals equipped with the skills and endurance to tackle complex health care delivery challenges.
"Rwanda's achievements in population health over the last decade demonstrate that a focus on equity and a commitment to value-based care will develop robust health systems," notes UGHE's Vice Chancellor, Dr. Agnes Binagwaho. "By educating leaders to be guided by these principles, UGHE is fostering a generation of professionals who are inclusive, do more with less, and who will revolutionize health care delivery."
UGHE was founded in 2015, to train transformational leaders in delivery-focused health sciences. Its flagship academic program, the Master of Science in Global Health Delivery (MGHD), offers students the unique opportunity to learn in both urban and rural settings as they acquire the technical and management skills and biosocial perspective needed to deliver quality health services to the most remote communities.
"Most university endeavours begin in cities, not in rural areas," says Co-Founder and Chief Strategist of Partners In Health and Co-Founder of UGHE, Dr. Paul Farmer. "UGHE is not meant to just be a Rwandan university, it's meant to be a global university. That means finding students from all over who understand how important UGHE's focus on equity is."
In September 2015, after a highly selective admissions process, UGHE's MGHD program welcomed 26 pioneering students eager to learn how to develop equitable, sustainable systems of care delivery. Over the last two years, members of the Class of 2017 have applied that same rigor to their studies. Students in the MGHD Class of 2017 remained employed as doctors, policy makers, veterinarians and more, as they attended the part-time program where they learned how to manage challenges and resources. Leading experts in global health taught students the critical competencies necessary to strengthen health systems and the leadership skills necessary to effectively manage people and programs. Skills that they were able to apply immediately at work and that will continue to evolve long after they graduate.
"As the first class of students, members of the MGHD Class of 2017 have a unique responsibility not just to the communities they serve, but to future cohorts of UGHE," says Executive Director, Dr. Peter Drobac. "I have no doubt that our pioneering Lions will provide a powerful impact in the organizations, institutions, and systems in which they work, shaping the future of how health care is delivered."
As the first cohort, Commencement for the MGHD Class of 2017 is a major milestone for the University and its graduates, but even more so for the communities they serve, as they set out to fulfill a future in which populations throughout Rwanda and across the globe have access to quality health services.
"I approach my work differently now. I consider all dimensions of a patient's needs before designing an intervention," says Josephine Ndikubwimana, a new graduate of UGHE. "With the knowledge I have acquired through the MGHD program I am more confident than ever of my role in challenging barriers to health care."