UGHE Recognized Internationally for its Community Engagement and Higher Education Excellence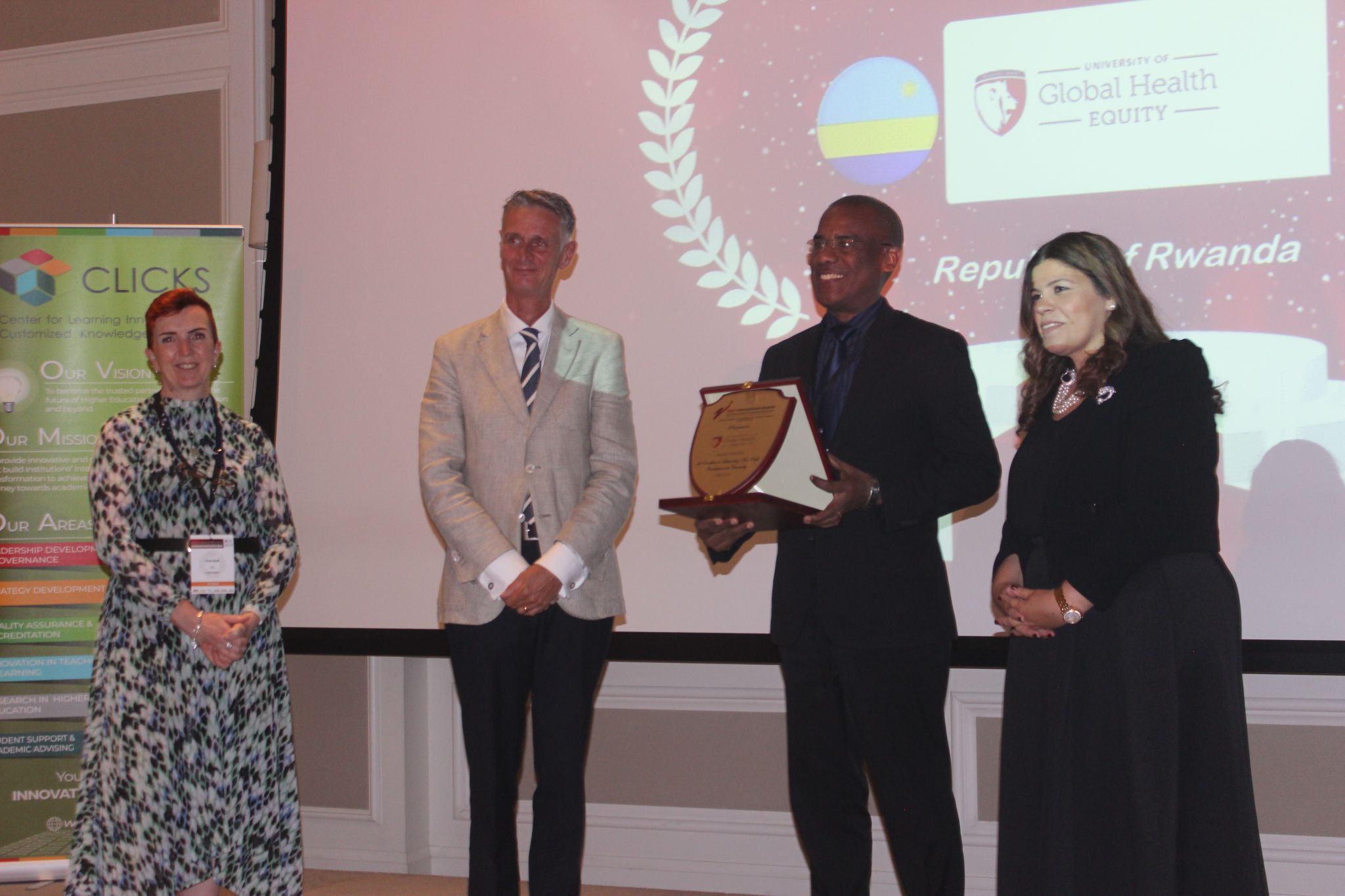 The University of Global Health Equity (UGHE) has received the Zairi International Award for "Outstanding Not-for-Profit Contribution to the Community". The recognition was given during the Middle East and North Africa (MENA) Higher Education Leadership Forum organized in Dubai on March 11th, 2023. The award is a formal international recognition of outstanding performance in specific areas for higher education institutions around the world and for those who have successfully addressed global challenges.
The UGHE was set up in 2015 in Butaro, a sector of the remote rural district of Burera. UGHE's vision is to be a leading university that strives to train the next generation of global health leaders, with an emphasis on transforming them into change-makers equipped with the skills to protect the most vulnerable and to improve health outcomes and social systems. It has two pioneer flagship programs for health professions training – the Masters of Science in Global Health Delivery (MGHD) which started in 2015, ahead of the Bachelor of Medicine; the Bachelor of Surgery/Masters in Global Health Delivery (MB BS/MGHD) dual program. The curricula for both programs are delivered to ensure immersion in the social ecology of the community as relevant health equity issues are addressed. The Master Plan for UGHE has community engagement and as such its educational initiatives are geared at building partnerships and collaboration with the community within a pedagogical framework. The beneficiaries of this initiative are students, graduates, and the community itself.
Among 179 submissions from 37 countries across the world, UGHE excelled in achieving excellence for the 2023 Zairi Award, demonstrating a high level of stakeholder engagement, the ability to address significant community needs, and achieving impact and sustainability. Professor Abebe Bekele founding Dean in charge of the School of Medicine and academics notes that "the institutional academic culture at UGHE is strongly focused on building partnerships and interventions for the well-being of the community, with all teaching and research being well connected to our community".
The Zairi Award is administered on an annual basis by the Center for Learning Innovations and Customized Knowledge Solutions (CLICKS) and is named after the late Professor Mohammed Zairi recognized as a Guru and International Expert in the field of Total Quality and Excellence Management. Dr. Tomlin Paul, Dean for Research, Innovation, and Quality at the UGHE expressed delight that the work of UGHE's faculty and staff was being recognized for its intrinsic value and quality.