UGHE Welcomes Third MGHD Cohort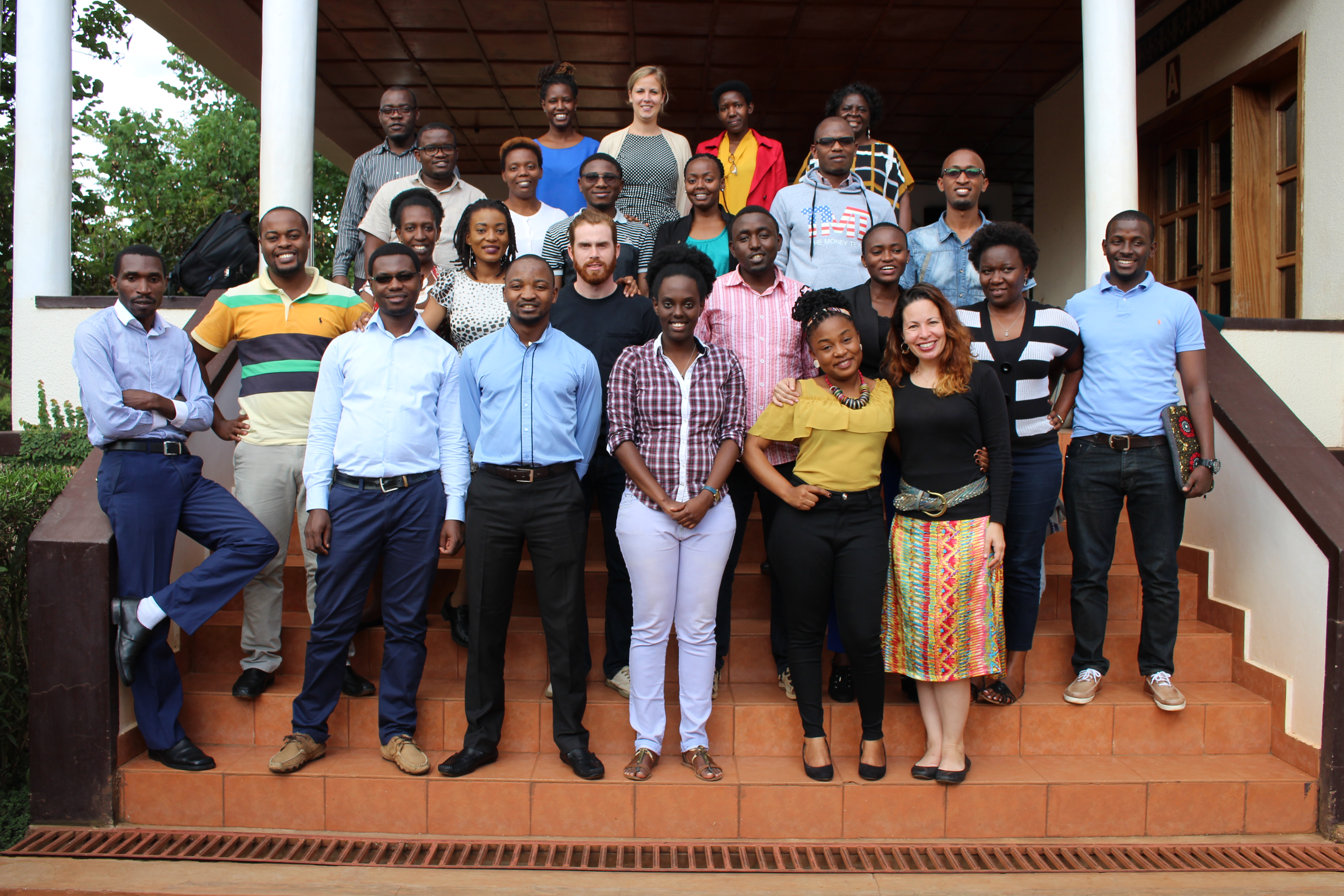 With pen and paper in hand, several UGHE students, faculty, and staff walked toward a house in a small village on the outskirts of Rwinkwavu in Rwanda's Eastern Province. Like students across the globe, those in UGHE's Master of Science in Global Health Delivery (MGHD) program were beginning their first week of classes for the fall semester. Unlike many of their peers elsewhere, UGHE students were receiving a lesson held outside the confines of a traditional classroom.
Their destination that day was the home of a family supported by Umujyanama w'ubuzima Aminadabu, a community health worker in the village of Karama. Aminadabu, the guest lecturer, identifies and supports families with children enrolled in a malnutrition program at the nearby Karama Health Center, a facility supported by Inshuti Mu Buzima, the sister site of Partners In Health (PIH) in Rwanda. Joining him on a home visit, the MGHD students listened as a young woman named Olive explained the challenges she faces in providing adequate, nutritious foods for her 9-month old infant.
Olive, who also has a 3-year old toddler, is a single mother without a sustainable source of income or other assets like land or livestock. Gathered outside the home of her own mother, Olive described how these challenges hinder her ability to consistently feed her family. Unfortunately, the struggle to put food on the table is nothing new for Olive, whose family lacked financial stability and social support while she herself was growing up, making Olive's children the third generation of individuals trapped in a cycle of poverty and malnutrition. Driven to break the cycle, Olive takes her young child for malnutrition treatment at Karama Health Center.
The field visit was part of the Principles of Global Health Equity class, the foundation of the MGHD training that spans public health management, leadership, health policy, and One Health—an integrative principle that advocates optimal health for people, animals and the environment.
In UGHE's two-year program, students work full-time while they're in school, as physicians, nurses, program managers, epidemiologists, pharmacists, veterinarians and more. UGHE selected its third MGHD cohort from its largest and most diverse applicant pool yet, one with more than 300 candidates from 21 countries.
The students' semester kicked off with a week of intensive sessions in Rwinkwavu. Through field visits, lectures, dynamic class discussions, focused group work, and student-led presentations, the week covered the background an MGHD student needs to effectively address health care delivery challenges, including social determinants of health, structural violence and One Health. Global health champions including UGHE Vice Chancellor Dr. Agnes Binagwaho, Executive Director of Inshuti Mu Buzima Dr. Alex Coutinho, Director of the Skoll Centre of Social Entrepreneurship Dr. Peter Drobac and local implementation experts like Aminadabu guided students through their first week at UGHE, laying the foundation for their next two years.
Students developed a deeper understanding of the cycle of poverty, observed social determinants of health in action, and saw the need for interdisciplinary collaboration to address issues that affect health. By visiting and learning from local experts and communities, students gain a holistic appreciation of the complex web of factors that affect health care delivery.
"The biggest problem lies around getting the solutions and innovations that have been found to the communities that need them most. The (MGHD) program really tackles that problem because it focuses on delivery, on equity," said new student and One Health Scholarship recipient, Jean Paul Gisa, who works as a Project Innovations Specialist at One Acre Fund. "This program is going to produce global leaders who are going to focus on delivering proven solutions to the people in most need."
During this first week, students were joined by PIH co-founder Ophelia Dahl, who led a lecture about the "art" of global health delivery, emphasizing the need for flexible, innovative thinking when addressing global health challenges. She spoke about her three-decade career of bringing quality health care to the world's poorest communities, sharing messages that resonated throughout the week.
"We have to make sure that the work we do is deeply connected to the communities we're serving—that is something that has come too slowly to development thinking," Dahl said. "There's a (false) sense that this can be taught, and somewhat addressed, from afar."

September also welcomed back the MGHD Class of 2018, now in their second year. In addition to taking the Managing Global Health Care Delivery course—which teaches market and stakeholder analysis, strategic planning and business pitches—students in this cohort will spend their fall semester preparing for their Practicum projects.
UGHE's Practicum component helps students translate knowledge they acquired from the MGHD program directly to their communities and workplaces, through development of a project that focuses on improving health outcomes with evidence-based solutions and effective leadership.
Thus far, this cohort of students is investigating a variety of prominent challenges to improve health in Rwanda, from assessing the mental health literacy of primary care nurses in rural health centers in Rubavu District, to investigating the effectiveness of mobile phone reminders for children and adolescents with type 1 diabetes, and more.
With opportunities to learn from global health changemakers including former Ministers of Health, rural community health workers, and founders of large-scale international NGOs, UGHE's Lions are gaining fundamental knowledge of global health equity, along with the leadership and implementation skills they need to reimagine health care delivery for decades to come.