UGHE's School of Medicine Hosted the First Cohort of Medical Students' White Coat Ceremony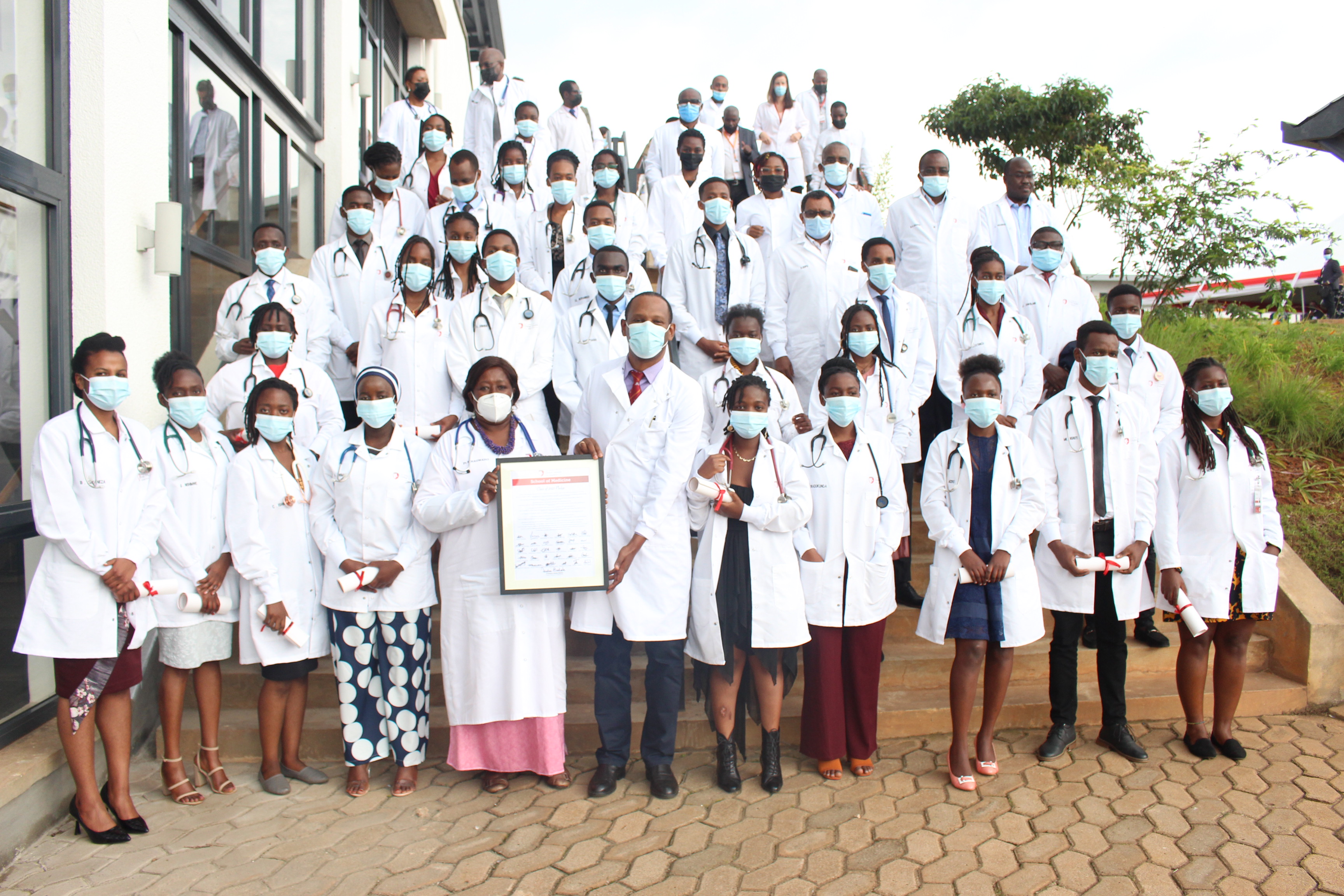 On December 8th, 2021, the first White Coat Ceremony was held, bringing together distinguished leading global health experts, UGHE supporters and friends, leadership, faculty, staff, and students to celebrate UGHE's first cohort of medical students (Bachelor of Medicine, Bachelor of Surgery/Master of Science in Global Health Delivery (MBBS/MGHD)) as they transitioned from pre-clinical to clinical studies.
The keynote speaker Prof. Senait Fisseha, UGHE Board Member, Prof Paul Farmer, UGHE's Chancellor, Prof. Agnes Binagwaho, UGHE's Chancellor, Prof. Abebe Bekele, UGHE's Dean, School of Medicine, Drs. Emile Rwamasirabo and Claire Karekezi provided powerful words of wisdom to UGHE's thirty students who took their student oath. The ceremony was attended by the Burera District Mayor, Mrs. Marie Chantal Uwanyirigira, and the leadership of Butaro District Hospital, among others.
UGHE's Chair of the Division of Clinical Medicine, Dr. Natalie McCall, in her welcome note, reminded the students of their responsibilities to uphold the values they were taught at UGHE. "When you think of today, it means a testimony to me. It's a commitment and a milestone in training a new generation of aspiring doctors," Dr. Natalie said. "Today, these medical students are embarking on a new journey, from preclinical to becoming very competent doctors. They accept the values of responsibility, honor, respect, and empathy by accepting the white coats. As you continue to cultivate your values, keep in mind why we're here: to serve the most vulnerable members of the community."
Dr. Robert Ojiambo, Chair of Basic Medical Sciences, praised the students' competence and understanding. "Our interaction with you over the last three years has demonstrated that you are competent and have laid a solid foundation for your next step in your medical apprenticeship," Dr. Robert addressed the MBBS/MGHD'25 students. You honed your communication, critical thinking, and medical skills, and you learned how to apply the UGHE Values of health equity and social justice."
UGHE's Vice Chancellor, Professor Agnes Binagwaho, reminded the students of their commitment to the vulnerable and the obligation that lies ahead. 'This White Coat Ceremony is important, and I am honored to preside over it. "You, medical students of the class of 2025, will soon use your knowledge and skills to benefit the community and the world. You have the knowledge and skills to contribute towards the development of this continent. As a result, we are reliant on you. You have something else that will aid in the healing of social issues that cause people to become ill and prevent them from exercising their right to health"
Prof. Abebe Bekele, Dean of the School of Medicine urged the students to apply the equity values they learned at UGHE during their medical apprenticeship. "For you students, White Coat means you must apply knowledge, professionalism, and empathy," he explained. You must be equipped with compassion because without compassion and wisdom, you will not be able to deliver the utmost in your healthcare delivery. Do not forget equity, justice and health because that's what will matter most in your journey as medical clinicians."
During the ceremony, guest speakers Professor Emile Rwamasirabo, Professor of Urology, and Dr. Claire Karekezi, Neurosurgeon at the Rwanda Military Hospital, delivered important professional career advice "You will become medical students in clinical practices, you will meet doctors, nurses, leadership, support staff, etc., remain humble to learn from others and grow," Dr. Emile Rwamasirabo. A good doctor is one who listens to and examines patients, and that is what we expect from you." Dr. Claire Karekezi. "Patience and perseverance are what you need in your medical journey," Dr Claire Karekezi added. Consistency and challenging work always pay off, and you have all the support you need to become anything, including the best doctor you want to be. Dare to have big dreams. Maintain your humility, be teachable, and always ask God to guide you. There is no better feeling than treating a patient who needs you."
Dr. Paul Farmer, Chancellor of UGHE expressed gratitude for the realization of his dream of training medical doctors in Rwanda, a country that cares about its people..Highlighting what it means to be a genuine and real doctor, Prof Paul Farmer said: "We never get to see why medicine matters,but the struggle you have joined, the battle in which you are now engaged, is not only righteous; it is also very often a joy, but a better place to reflect on what a white coat ceremony means . Time, sympathy, and understanding must be the most important qualities you uphold as medical doctors, as well as an interest in humanity."
Dr. Paul Farmer also echoed Dr. Francis Peabody's words: "One of the essential qualities of the clinician is interest in humanity, for the secret of patient care is in caring for the patient." "I know you will be the ones to spend extra time speaking with care and a smile to the patients and their families as you empathize with them, learn from them, and offer the gift of your presence," he added.
Delivering her keynote address, UGHE Board Member Professor Senait Fisseha encouraged students to put people first and to uphold justice and equity in their approaches. "Clinical Medicine is about people,and ensuring that everyone has access to health care as a right." Do not ever lose sight of that. You have what it takes to be transformational change agents for Rwanda, Africa, and the rest of the world.' People share information with you that they would not share with others because they have faith in you as doctors. This is an honour and a responsibility that must be taken seriously. Injustices that you witness in your own communities are microcosms of global injustice. However, in clinical medicine, global health is about justice and equity, which you will uphold."
Eden Gatesi, MBBS' 25 student, delivered a speech titled "Souls Beyond Coats", emphasizing their commitment to health equity and social justice in the medical field they have just joined as apprentices. "We couldn't be more honoured to be here, appreciating the accomplishments we've made along our "You're Becoming a doctor" journey and being inspired for what lies ahead," she said. "We were exposed to a variety of learning experiences, including daily lectures that provided us with new scientific knowledge, as well as community-based education that introduced us to the social determinants of health on the ground." Basic sciences were not the only subjects covered! We also completed the Prep phase, One Health, medical ethics and law modules, which fed our attitude, passion, and empathy, essential ingredient encompassing the great souls beyond these white coats."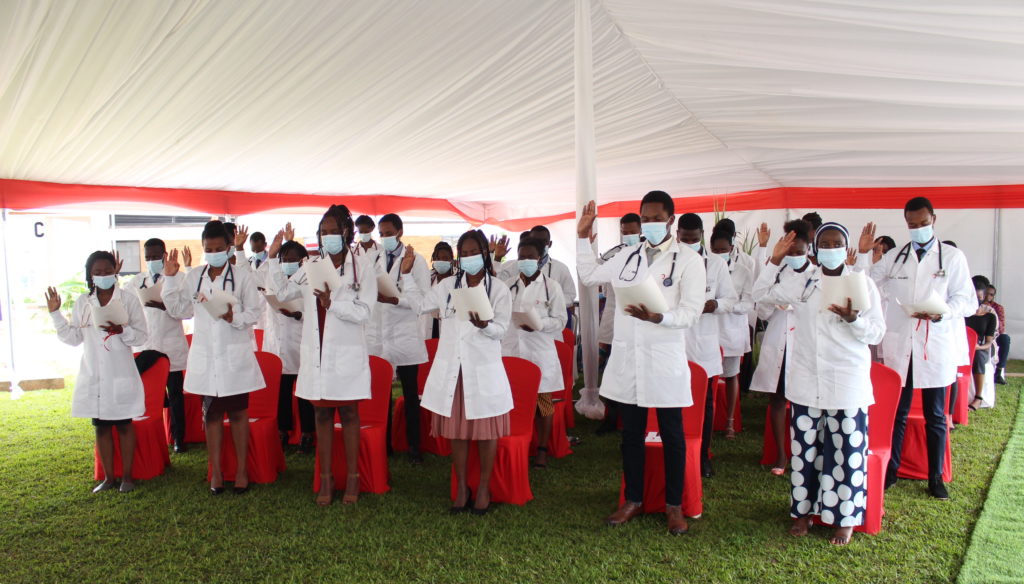 UGHE aims to train a new generation of well-rounded medical doctors in Africa as an innovative and ground-breaking health sciences university. A focus on the social aspects of health and healthcare is one of the UGHE's core tenets. The MBBS/MGHD program prepares students with cutting-edge clinical knowledge and skills, as well as the leadership and management skills required to effectively implement innovative public health solutions, lead, and manage equitable health systems, and improve care delivery in communities across the globe.