University of Global Health Equity Welcomes International Students and Faculty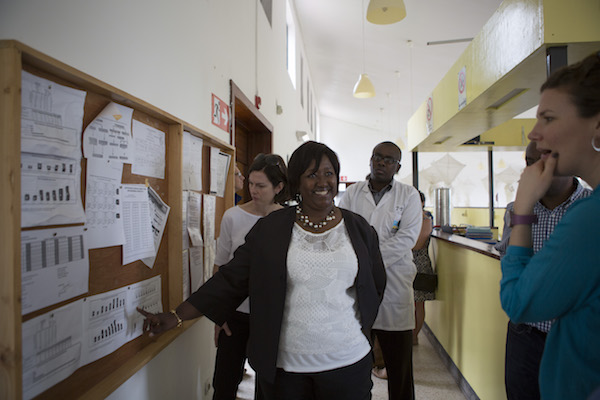 Rwinkwavu, Rwanda – University of Global Health Equity (UGHE) begins its second academic year, welcoming new students from around the world and adding a recognized global health leader to its faculty.
UGHE is a new health sciences university that trains emerging health leaders to deliver effective and equitable health care. Its flagship academic program, the Master of Science in Global Health Delivery (MGHD), is adapted from a partner program at Harvard Medical School. Utilizing innovative teaching methods and experiential learning, the MGHD provides rigorous training in global health, health policy, management and leadership.
International interest in UGHE is growing. The 25 new students arriving in Rwinkwavu this week hail from six countries, including: Australia, Burundi, Mexico, Nepal, Rwanda, and the United States. From veterinarians to physicians, pharmacists to district health leaders, UGHE's students will work together, across disciplines and across continents, to address the world's most pressing health challenges.
"At UGHE, you are working side-by-side with professionals who share the same passion," says Dr. Kurt Figueroa, an MGHD student. "Both my fellow students and the university faculty will serve as mentors, helping me to develop skills that I can take back to Mexico."
UGHE's distinguished teachers include six visiting faculty from Harvard Medical School and the Cummings School of Veterinary Medicine at Tufts University in Boston. Says Dr. Hellen Amuguni of Tufts University, "By bringing together leaders and students from all disciplines to solve complex health problems, UGHE's approach is unique."
Also welcoming the students was UGHE's newest full-time faculty member, Dr. Agnes Binagwaho. Professor Binagwaho is a pediatrician who served for over 20 years in Rwanda's health sector, including five years as Minister of Health. During her tenure in public service, Rwanda achieved unprecedented gains in the health of its population. Professor Binagwaho is also an internationally recognized global health leader. Throughout her career she has advocated for the right to health on behalf of women, children and disadvantaged communities.
"Rwanda has developed a global reputation for innovation in health care delivery, and Dr. Binagwaho has played an important role in the country's impressive development," says UGHE Executive Director, Dr. Peter Drobac. "With her vision, expertise and outstanding academic record, Dr. Binagwaho will help establish UGHE as a world-class health sciences university."
As these students begin their educational journey, construction of UGHE's first permanent campus has begun in Burera District. Set on 100 hectares near Butaro Hospital, the state-of-the-art health sciences campus will open its doors in 2019.
"This university is built around the opportunity to serve," says PIH co-Founder, Dr. Paul Farmer. "We're focused on health and we're focused on equity." For this reason, Dr. Farmer calls UGHE the fulfillment of a "lifelong dream."