Dr. Gary Gottlieb: "The movement for global health equity has a new and most formidable arrow in its quiver."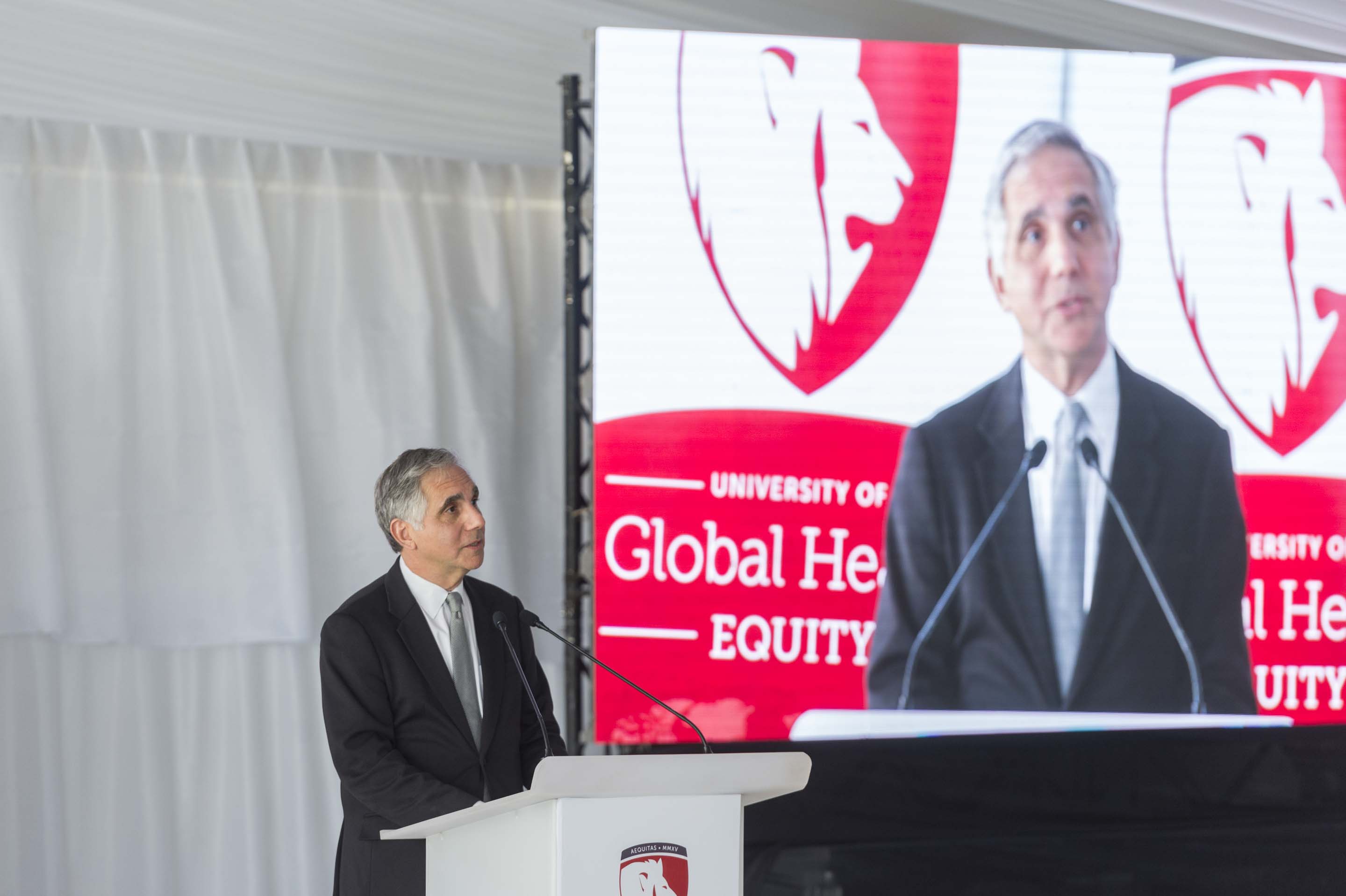 On January 25, 2019, UGHE inaugurated its Butaro, Rwanda residential campus with a ceremonious Ribbon Cutting. The opening was attended by government officials including His Excellency, President Paul Kagame, leadership from Partners In Health and Inshuti Mu Buzima, thought partners from leading academic institutions, and donors and champions of the University.
In his remarks to attendees, transcribed below, Partners In Health CEO, Dr. Gary Gottlieb recognizes the many individuals who have laid the foundation for UGHE's success, and the millions of lives that will be transformed as a result of these visionary partnerships.
Today, this beautiful valley, surrounded by lush hills crowned by volcanic mountains is forever changed. Today, the warmth of this tropical sun, the freshness of this country breeze and the brilliance of this azure sky will be permanently enriched. Today, these rich and dark soils become ever more fertile than the lush vegetation can possibly betray. Together, they are now elements of the world's newest beacon of knowledge, of learning, of growth and of nurturance. A place, that in the coming centuries, will draw magnificent young people from Rwanda, from all of Africa and from all over the world to become healers, scientists and leaders, deeply committed to improving the human condition. They will use the power of science, inquiry, clinical skills and accurate empathy to enhance the lives of individuals and families and to lift communities from the yolk of unnecessary illness, poverty and injustice. Today we welcome to its permanent home, an institution that speaks its mission in its name, a University of Global Health Equity-who could possibly argue with that?
For the founders, the Board and all of the 18,000 people of Partners In Health, committed for decades to providing a preferential option for the poor in health care, there is no more suitable complement to the clinical work that began more than 30 years ago through Zanmi Lasante in Haiti, and which now reaches 10 countries and touches eight million people, including nearly a million people here in Rwanda through a remarkable partnership between the Government of Rwanda's Ministry of Health and Inshuti Mu Buzima (IMB). UGHE will catalyze continuous investment in extraordinary people who will embrace these values and these principles, bathed in an innovative pedagogy that will allow them to defy the limitations imposed by maldistribution of resources and wealth, by structural violence and by scarcity, to promote health and wellness and to deliver care that reflects genuine translational science. That is why our founder, Board Chair and long time Executive Director, Ophelia Dahl, led the organization to pursue the splendid vision that our Chief Strategist, Paul Farmer cooked up with co-founders Drs. Agnes Binagwaho and Peter Drobac, and committed PIH to realize this longtime dream.
PIH is ever so grateful for the friendship, trust and power of our decade and a half partnership with the Government of Rwanda. Through President Kagame's voice and commitment and the enduring efforts of his cabinet and brilliant local leaders, we have this magnificent campus, power, water, high speed internet and countless other services that will make this university and this region an academic and economic powerhouse for its people for generations to come. In a few years, perhaps Butaro will replace Boston and Cambridge as the Athens of the 21st century!
We are also indebted to visionary investors who could see the importance of this moment and the benefits that will be reaped in the centuries ahead from the moment that Paul, Ophelia, Agnes and Peter described this project to them, and generously provided us with critical funding to begin planning, building and, ultimately launch UGHE. Joyce and Bill Cummings are selfless inspired people whose commitments to empowering people and communities are legendary in New England and globally and who can somehow always find the best pathway to accomplishing challenging objectives. Bill and Melinda Gates felt the Cummings' passion and became immediately convinced of the magnitude of this opportunity and so generously joined in making a foundational gift and by bringing the genius of our friends at the Gates Foundation to steward this work.
We are thankful to many other extraordinarily generous friends and partners who have joined to provide the sustenance to support this facility, our academic programs, our faculty and our students.
Finally, we are deeply indebted to our teams here in Rwanda and in Boston who have delivered a real and thriving University and a truly magnificent campus. Under the breathtaking leadership of Vice Chancellor Binagwaho and Dean Bekele, our academic programs and their planning are in full gear. Very special thanks to the brilliant workers of Burera who have brought their great skills and their tireless efforts to this project. We are also so grateful to the wonderful Emmanuel Kamanzi and his team here in Rwanda and the spectacular Jarrett Collins and his teams here and in Boston who have made certain that this special place is physically so special.
Look around you at this beautiful campus, at these very special students, at this committed faculty and at your friends and colleagues. Let this image resonate for a moment, this very sentinel moment, when the movement for global health equity has a new and most formidable arrow in its quiver. Now follow the arc of that arrow and the millions of lives it will certainly improve and save over the coming years.
Murakoze, thank you.