Alumni Profile: Dieudonne Hakizimana '17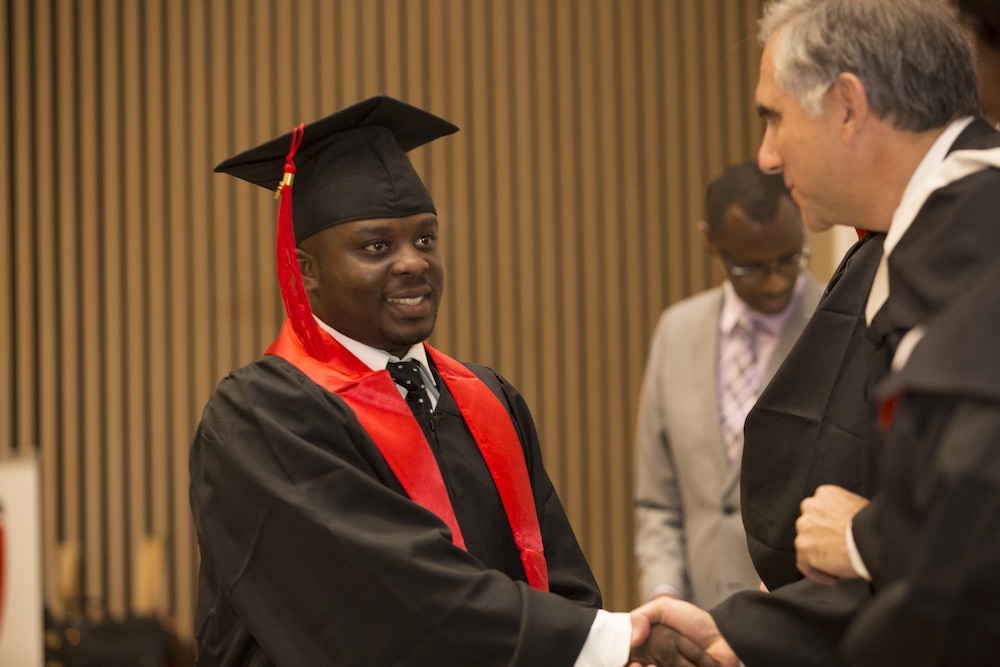 Dieudonne Hakizimana '17, was a student in UGHE's pioneering cohort of Master of Science in Global Health Delivery candidates. In addition to the MGHD, Dieudonne holds a master's degree from the University of Rwanda, and a Bachelor of Nursing from the University of the West of Scotland, United Kingdom. His 10 years of experience in health systems strengthening has run the gamut; from clinical care to monitoring and evaluation to capacity building to his current role as Teaching and Learning Officer at UGHE. We sat with Dieudonne to discuss the arc of his career, and to learn about his motivations for entering global health work and his hopes for the future.
His passion for improving access to affordable and quality health services, insatiable curiosity, and leadership disposition are just a few of the factors that have fueled Dieudonne's professional journey. Inspired by the rapid progress made to Rwanda's health and infrastructure over the last two decades, he grew up hoping that he might be able to contribute to these trends and bring positive change to Rwanda's rural areas where global health delivery is needed most.
Dieudonne witnessed firsthand the barriers to accessing health services in underpopulated areas. "I grew up in a rural area called Rwamagana, and at that time accessing health care was difficult due to many reasons including understaffing," he reflected. "I decided to pursue health service because I have always had a passion for helping vulnerable people and believed that treating disease was the best way to do so."
When Dieudonne entered college, he dove headfirst into a career that would allow him to impact lives by training as a nurse and joining the rural Rwinkwavu District Hospital, supported by Inshuti Mu Buzima. There, he coordinated essential services in everything from surgery and immunization to family planning, malaria, and HIV/AIDS treatment.
"When I finished training I could have taken a job at a bigger hospital in the city, but I knew I wanted to work in a rural area," he noted. He stayed at the Rwinkwavu District Hospital for four years where he sharpened his provider skills and took on mentorship positions, growing as nurse manager and supervisor.
Though treating patients was rewarding, he remained curious about the scope of global health work. His desire to gain fluency in implementation science led him to pursue an opportunity at the Society for Family Health (SFH) where he worked as a Monitoring and Evaluation Manager, overseeing data collection and analysis for programs such as the USAID founded Rwanda Social Marketing program, a nutrition advocacy and intervention program and a malaria control and prevention program.
Dieudonne's global health lens continued to widen, leading him to a Master in Epidemiology at the University of Rwanda, where he strengthened his research skills.
As he was graduating, Dieudonne heard that Partners In Health would be launching a brand-new university in Rwanda, one with a specific focus on the essential global health principles that were slowly becoming the bedrock of his career; that health is a human right and that the next generation of global health leaders should be empowered to deliver health with greater equity and purpose.
Up until this point, his studies had primarily concentrated on health practices. He had become a skilled clinical health practitioner and researcher, yet still felt that he lacked the leadership training that would help him guide others. Courses in management, health financing, one health, and global health delivery greatly appealed to the practical side of his brain. Similar to nursing and epidemiology, Dieudonne believed that global health leadership was a discipline that could and should be studied and practiced upon. Moreover, he was proud that PIH had chosen Rwanda as the country to pilot this brand-new university; it served as validation of Rwanda's health systems and its dedicated providers. He wanted to continue playing a part in the positive transformations he was witnessing, leading him to join UGHE's inaugural class.
At UGHE, his courses offered a systems-thinking perspective that allowed him to think innovatively about addressing global health challenges, as well as the importance of effective leadership. Practicing mentorship was always something that Dieudonne had found fulfilling in his career, but at UGHE he saw that effective leadership was not only an advantage, but a necessity to make a sustainable positive impact.
Upon graduating, Dieudonne has continued to make a positive impact as a Teaching and Learning Officer at UGHE. He not only develops academically rigorous curriculum but is committed to assisting students with class work and providing ongoing mentorship as a Teaching Assistant for Research Methods and Evidence-Based Global Health Delivery and the UGHE Practicum. "Students feel comfortable approaching me when they struggle because they know I have been where they are," he says. "I feel most fulfilled when I help students understand concepts that they initially find scary or daunting."
Throughout each of his roles, the value of collaboration has remained key for Dieudonne: "Everyone has an important part to play in making a health system work." As UGHE expands to the rural area of Butaro, Dieudonne hopes that the school will continue to involve local communities, students, and staff in supporting its mission to achieve health equity. "We are lucky to have UGHE in Rwanda," he says proudly.
Dieudonne believes that UGHE students have the power and responsibility to shape the future for the better, bringing their skills in global health delivery to the public and private sectors, hospitals, research and more. Their time at UGHE is but a stepping stone on the long and winding journey to serving as leaders in their communities.
It is a journey that Dieudonne is all too familiar with. One he knows he will be embarking on for life.