Construction on UGHE Paves Way For The Next Generation of Leaders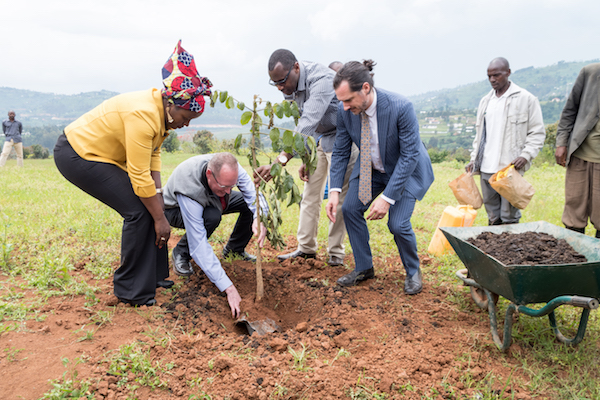 Kigali, Rwanda – The University of Global Health Equity (UGHE) will break ground on its Butaro campus, initiating the first phase of construction on a facility that will support over 1,000 students and faculty and convene the world's leading minds in health care delivery.
On 10 December, 2016, leaders from UGHE and Partners In Health/Inshuti Mu Buzima (PIH/IMB) will be joined by esteemed guests that include Honorable Minister of Education and Honorable Minister of Health from the Government of Rwanda, and Dr. Paul Farmer, Harvard University Professor, Co-founder and Chief Strategist of PIH, and Co-founder of UGHE, as they celebrate the growth of the university, and as a result, innovative health and education progress in Rwanda.
"More than a shift in higher education, UGHE represents a shift in opportunity," says Dr. Agnes Binagwaho, Professor of the Practice of Global Health Delivery at UGHE. "The university will serve as an intellectual hub for the world's best and brightest; many of whom will come from Rwanda and, as graduates, drive the success of our health system."
Launched in 2015, UGHE is a new health sciences university that trains health leaders to deliver effective and equitable health care. Faculty from Harvard Medical School, Tufts University, Yale University and across Rwanda's health sector empower students to tackle the world's most complex health challenges. The location of the campus in Burera District will afford students with opportunities for learning experiences grounded in community engagement and exposure to a strong primary health care system. Graduates will leave the university equipped with the knowledge, skills, and experience to strengthen health systems in both rural and urban communities.
The first phase of the university will house state-of-the art classrooms, teaching laboratories, a clinical simulation center, and information commons, as well as administrative, dining, and lodging facilities. The scenic land, located near the iconic Butaro Hospital, was generously provided by the Government of Rwanda and the citizens of Butaro.
UGHE staff have worked closely with the Burera District community and government to engage, to hire, and to train local labor. In preparation for the university's opening, the Government of Rwanda is paving roads that link Butaro to Kigali and Musanze, and increasing access to water, electricity, and internet connectivity throughout the region.
"UGHE will have a transformative impact on Rwanda and the region," says Emmanuel Kamanzi, Director of Campus Development. "While developing a workforce of health leaders and experts at delivering care in low resource settings, the institution will contribute to the local workforce and the nation's growing economy."
When construction of the new campus is complete — slated for 2018 — the university will rapidly expand its academic programming, beginning with a School of Medicine. Degree programs in nursing, dentistry, One Health, and doctoral studies in global health delivery will train thousands of students in the coming years.
Dr. Peter Drobac, Executive Director, says, "As we celebrate this new chapter in the university's growth, I am more confident than ever that UGHE will serve as a global platform for innovation in health care delivery."