Emmanuel Kamanzi on Working in Global Health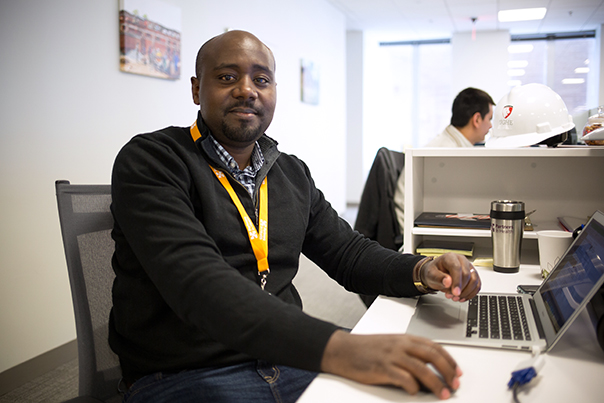 Emmanuel Kamanzi has worked for Partners In Health for almost a decade in many places and roles. He's spent the last three years in PIH's Boston office and is now returning home to Rwanda to take on his biggest project yet—overseeing the building and development of the University of Global Health Equity. We asked him to reflect on his career and offer advice to aspiring global health professionals.
Standing on a hill in Burera, a rural district in northern Rwanda, I see other green and terraced hills all around. I can see the beautiful Butaro Hospital across a valley, and to the east is Mount Muhabura, which is home to the gorillas that attract so many tourists every year.
I'm at the construction site of the University of Global Health Equity, which is owned and operated by Partners In Health. Launched in 2015, the institution was founded to train the next generation of global health leaders. I just returned from the United States, where I have been for the last three years, to work as the university's director of campus development.
Several people have come to me for advice on working in global health. They ask whether I am a doctor or a nurse. My answer is always very direct: No. I am trained in business studies, management, and leadership, and I use these skills to make life better for those who need it most.
[Read the full story at PIH.org]