NIH's Dr. Roger Glass Named UGHE's 2018 Commencement Speaker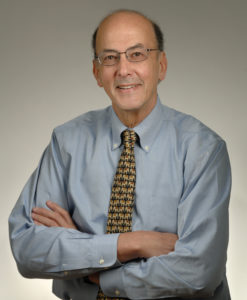 Kigali, Rwanda (March 28, 2018)— Roger I. Glass, M.D., Ph.D., Director of the National Institutes of Health's Fogarty International Center (FIC), will be the keynote speaker for the University of Global Health Equity's (UGHE) Master of Science in Global Health Delivery (MGHD) Class of 2018 Commencement ceremony.
"Dr. Glass has demonstrated incredible drive throughout his career to advance the training and research opportunities for health professionals around the globe," said UGHE's Vice Chancellor, Agnes Binagwaho. "His commitment to ensuring underserved countries are equipped with the capacity to improve health service delivery through research will inspire our newest graduates as they embark upon this next chapter."
Dr. Glass holds degrees from Harvard College, the University of Buenos Aires, Harvard Medical School, Harvard School of Public Health, and the University of Gothenburg, Sweden. In 1977, he joined the Centers for Disease Control and Prevention as a medical officer assigned to the Environmental Hazards Branch. He was a scientist at the International Center for Diarrheal Disease Research in Bangladesh and later joined the National Institutes of Health Laboratory of Infectious Diseases, where he worked on the molecular biology of rotavirus. In 1986, Dr. Glass returned to the CDC to become Chief of the Viral Gastroenteritis Unit at the National Center for Infectious Diseases, where he served for nearly two decades. He was appointed Director of the Fogarty International Center in 2006.
Dr. Glass has received numerous awards including the prestigious Charles C. Shepard Lifetime Scientific Achievement Award presented by the CDC in recognition of his 30-year career of scientific research application and leadership, and the Dr. Charles Mérieux Award from the National Foundation for Infectious Diseases for his work on rotavirus vaccines in low-resource settings. Dr. Glass received the 2015 Albert B. Sabin Gold Medal Award for his many contributions to improving children's health worldwide, including novel scientific research for the prevention of gastroenteritis from rotaviruses and noroviruses. Dr. Glass has co-authored more than 400 research papers.
"I could not be more delighted at the opportunity to address the MGHD Class of 2018 as they go forth to improve human health around the world, guided by compassion and service," said Dr. Glass. "These students are not only graduating with the knowledge and skills, but drive and ambition to improve health systems, do research, and treat patients with efficacy and equity. "
Over the last two years, the MGHD Class of 2018 has trained in public health, management, leadership, health policy, social determinants of health, and One Health. Lessons are grounded in problem-based and experiential learning, and incorporate case studies, group work, and field visits. UGHE's training model provides students with a profound understanding of the realities of problem-solving in under-resourced settings, and equips them with the tools and perspective to effect transformational change throughout the health sector.
MGHD Class of 2018 candidates hail from Rwanda, America, Australia, Mexico and beyond. They are individuals who practice finance, medicine, and education, to name a few, and who are poised to break out and enact fundamental change in their personal and professional communities. The MGHD Class of 2018 will emerge from the program with a broad set of skills to effectively contribute to their careers in global health delivery–they will lead programs and organizations to improve health and save lives.
Commencement for the the MGHD Class of 2018 will be held on June 3 in Kigali, Rwanda.
About the National Institutes of Health (NIH):
NIH, the United States' medical research agency, includes 27 Institutes and Centers and is a component of the U.S. Department of Health and Human Services. NIH is the primary federal agency conducting and supporting basic, clinical, and translational medical research, and is investigating the causes, treatments, and cures for both common and rare diseases. For more information about NIH and its programs, visit www.nih.gov. The Fogarty International Center addresses global health challenges through innovative and collaborative research and training programs and supports and advances the NIH mission through international partnerships. For more information, visit www.fic.nih.gov.