The University of Global Health Equity Graduates its Fifth Cohort from its Master of Science in Global Health Delivery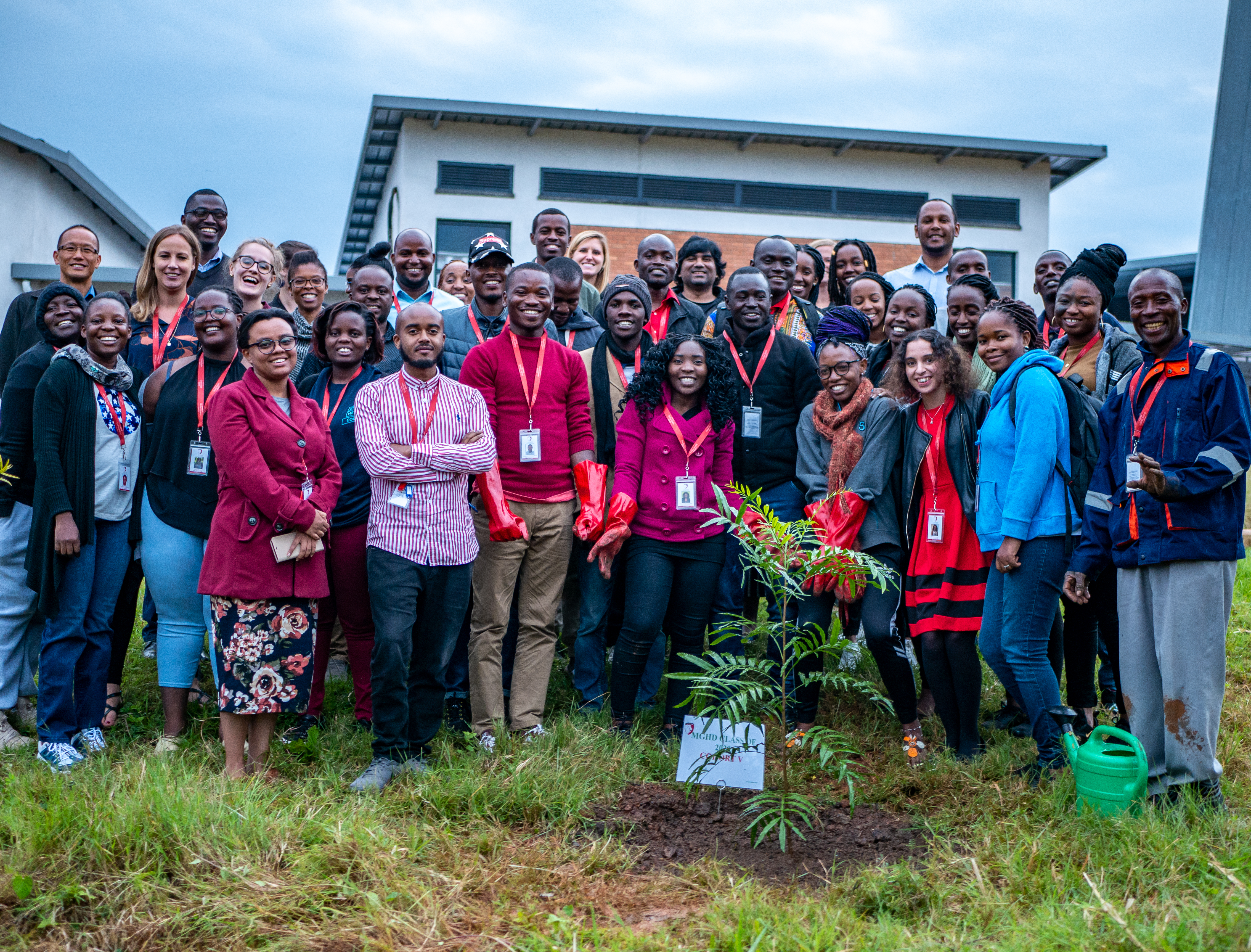 On Sunday 9th August, the University of Global Health Equity (UGHE) will graduate twenty eight students from its Masters in Science for Global Health Delivery (MGHD) flagship program. This the fifth cohort the University has seen pass through its doors since it's opening in 2015, and the second to have experienced the state-of-the-art facilities in its 2019-inaugurated campus in Butaro Sector, Burera District, Rwanda.
The MGHD '20 Graduation marks the culmination of an intensive year of learning for students, who have been exposed to, and learnt from, the expertise of world-class teaching from faculty and visiting faculty, as well as the nuanced insights of community-level health professionals. Hailing from 12 different countries, and representing diverse academic backgrounds and interdisciplinary professional experiences, students have developed a solid foundation in health sciences, acquired the leadership and management skills needed to repair, build, and maintain equitable health systems, and learnt to analyze with a biosocial lens the impact of social determinants of health within the rural learning environment of Butaro Campus.
"Our students—and the faculty, staff, administrators, and partners who join them—learn to critically examine health disparities through historical and social analysis and to repair broken and inequitable health systems. They situate UGHE at the forefront of a collective struggle to advance health equity around the world. Already, our graduates are fulfilling the promise of UGHE in diverse parts of the world, and this community of scholar-activists grows every year." says Dr. Paul Farmer, UGHE Chancellor and Co-founder & Chief Strategist of Partners In Health.
Beyond creating a community of intellectuals, UGHE is developing a community of changemakers by teaching all students the principles of gender equity, inclusiveness, social justice, global diplomacy, history, sociology, anthropology, liberal art and the concept of One Health, focusing on the interconnectedness of human, animal, and environmental health. This year's MGHD graduates will join the ranks of over 120 alumni from UGHE's Masters program, who now commit to advancing global health equity within their respective fields by serving vulnerable communities, women and girls, and youth, amongst other populations globally.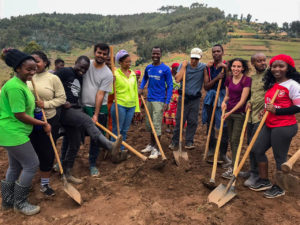 Given COVID-19 related restrictions globally, and in line with the Government of Rwanda's robust prevention measures against this disease, the MGHD '20 Graduation will take place virtually, with invitations extended across the globe to families and friends of graduating students, and friends and supporters of UGHE's mission. UGHE are honored to welcome an esteemed line-up of guest speakers to the ceremony, including His Excellency, the President of the Republic of Rwanda, Mr. Paul Kagame, the Hon. Minister of Health, Dr. Daniel Ngamije, the Hon. Minister of Education, Dr. Valentine Uwamariya, and a keynote address from Prof. Senait Fisseha, Director of Global Programs at the Susan Thompson Buffett Foundation, and Chief Advisor to the Director General of the World Health Organization. UGHE's Chancellor, Dr. Paul Farmer, Vice Chancellor, Prof. Agnes Binagwaho, the Dean of the School of Medicine and Deputy Vice-Chancellor, Prof. Abebe Bekele, Deputy Vice Chancellor of Administrative and Financial Affairs, Rogers Muragije, Dr. Rex Wong, Associate Professor and Director, Bill and Joyce Cummings Institute of Global Health will also speak to audiences within the ceremony.
Whilst many academic institutions across the world have been instructed to close in line with guidelines around COVID-19, UGHE students have benefited from a complete lockdown but fully operational campus, as authorized by the Government of Rwanda. This was both as a result of two months intensive preparation, from January 2019, before the first case was announced in Rwanda [March 14th], and to provide a home for students, faculty, and staff from other countries both from the region and overseas who decided to stay and continue to learn and serve in Rwanda despite travel restrictions. This approach aligns with UGHE's mission of providing both quality education and equitable care consistently.
'"UGHE predicted the challenges of global school closures, and met them with preparation to respond according to the guidelines. We continued to serve our clients — students and employees — by rapidly absorbing and applying the learnings from the successes and failures of the global governing response to COVID-19, thinking innovatively about organizational structure, and planning equitable solutions for immediate outcomes and for the future, helping our institution to thrive in times of global uncertainty." says Rogers Muragije, Deputy Vice Chancellor, Administrative and Financial Affairs.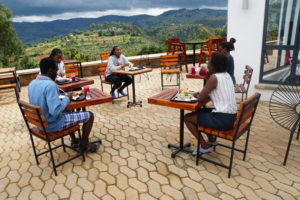 Countries globally have started to more deeply consider the long-term strategy in preparing for, and responding to, outbreaks of the future. UGHE's commitment to providing quality health education sits central to this strategy; equipping the next generation of equitable health professionals with the tools to both prepare for, and effectively respond to future outbreaks with a focus on equity.
"Over the last five difficult months, as the whole world battled an unprecedented pandemic that destabilized countries, communities, and families, our graduates were able to learn on the frontline a country's successful handling of such a crisis, as well as how UGHE remained functional while preventing the spread of disease and protecting everyone's health in an inclusive manner. With such examples and all they have learned on building or improving health systems with a focus on the most vulnerable, they are ready to make the world a better place, face future crises, and protect the communities they will serve." Says Prof. Agnes Binagwaho, Vice Chancellor, UGHE.
In the here and now, MGHD alumni have been contributing to frontline COVID-19 response efforts in testing, tracing and training community health workers to disseminate key prevention messaging within their respective communities. Furthering this commitment, last month UGHE ran the first course in a longer-term program jointly with Partners In Health on Pandemic Preparedness and Response to online audiences of over 2,500 from 83 countries, with future iterations of the program delivered through the MGHD program, and to French and Spanish-speaking participants. This comes with the development of a new masters program in disaster preparedness and management.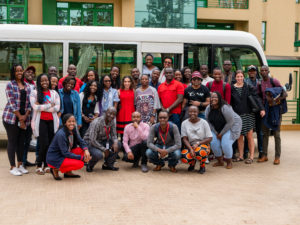 'The role of our students as the future's global health changemakers is now more critical than ever as emerging diseases have, and continue to threaten the lives of the most vulnerable. Our students leave with the resolute commitment and competency to provide an equitable voice for the historically unvoiced and underserved, and the educational tools to fulfill this challenging, yet pivotal role in the development and innovation of global health systems.' says Prof. Abebe Bekele, Deputy Vice-Chancellor of Academic & Research Affairs, Dean of the School of Medicine, UGHE.
Through the commitment and dedication of each and everyone — including students, faculty, staff, and campus workers — UGHE has been able to deliver its promise of quality, equitable education provision to all of its learners despite unprecedented circumstances, including the graduating MGHD cohort. UGHE looks forward to welcoming a new intake of MGHD students this October, representing 13 countries globally, who will continue UGHE's ambition to expand globally the access of vulnerable communities to quality delivery services, and accelerate the dissemination of discovery and innovation in global health.