UGHE Campus Intertwined with Butaro Community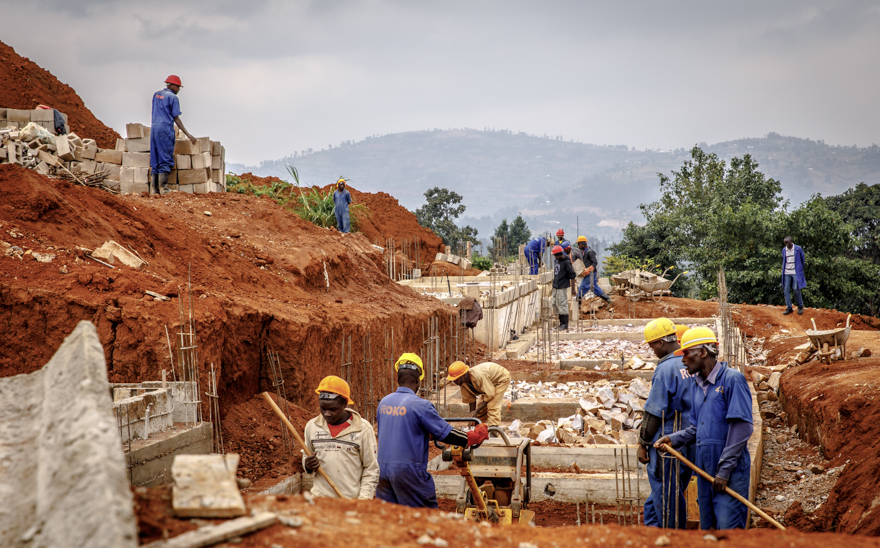 Jean Claude Niyonzima laughed when asked about his average workday in recent weeks, as he helps prepare the University of Global Health Equity in northern Rwanda for the Jan. 25 inauguration of its new, permanent campus.
"Oh, my goodness," said Niyonzima, UGHE's 29-year-old facilities manager. "I'm moving all day."
His days start at 5 a.m. and quickly become a blur of contractor meetings, equipment and furniture orders, mechanical plans, and check-ups on everything from final coats of paint to ceiling fans. By the time he responds to the day's last emails, it's usually 10 p.m.
Construction of the UGHE campus has transformed the surrounding community of Butaro over the past two years, in ways large and small. There now are streetlights. Vastly improved public infrastructure for electricity, potable water, and internet access. The first elevator in Burera District. A future paved road to the capital, Kigali, that will drastically reduce travel time for the 80-mile trip. Construction-related jobs for more than 1,500 people, with more than 90 percent of the workforce local, and more than 30 percent women. Many workers are learning new skills—such as masonry, welding, plumbing and landscaping—that could help with future employment.
Like Anne Marie Nyiranshimiyimana. A mason on the campus project, Nyiranshimiyimana initially faced criticism—"They told me, 'No woman builds, no woman climbs,'" she said—but she has since risen to the rank of master mason. She's also become a source of inspiration for women and girls in her community. She's known around Butaro by her nickname, Kankwanzi, which loosely translates to "rising star who refuses to conform to society's expectations."
Nyiranshimiyimana is one of many people on the construction crew who also worked on Butaro District Hospital, which opened in 2011 about two miles away. Nyiranshimiyimana began her masonry training on that project. Both the university and the hospital are initiatives of Partners In Health, a global health nonprofit that works in Rwanda through sister organization Inshuti Mu Buzima. The hospital and the UGHE campus sit atop scenic hillsides, visible to each other across a lush valley. The hospital is one of several teaching facilities that will collaborate with the university and provide hands-on training for students.
[Read the full story on PIH.org]