UGHE Receives Inaugural Class of Medical Students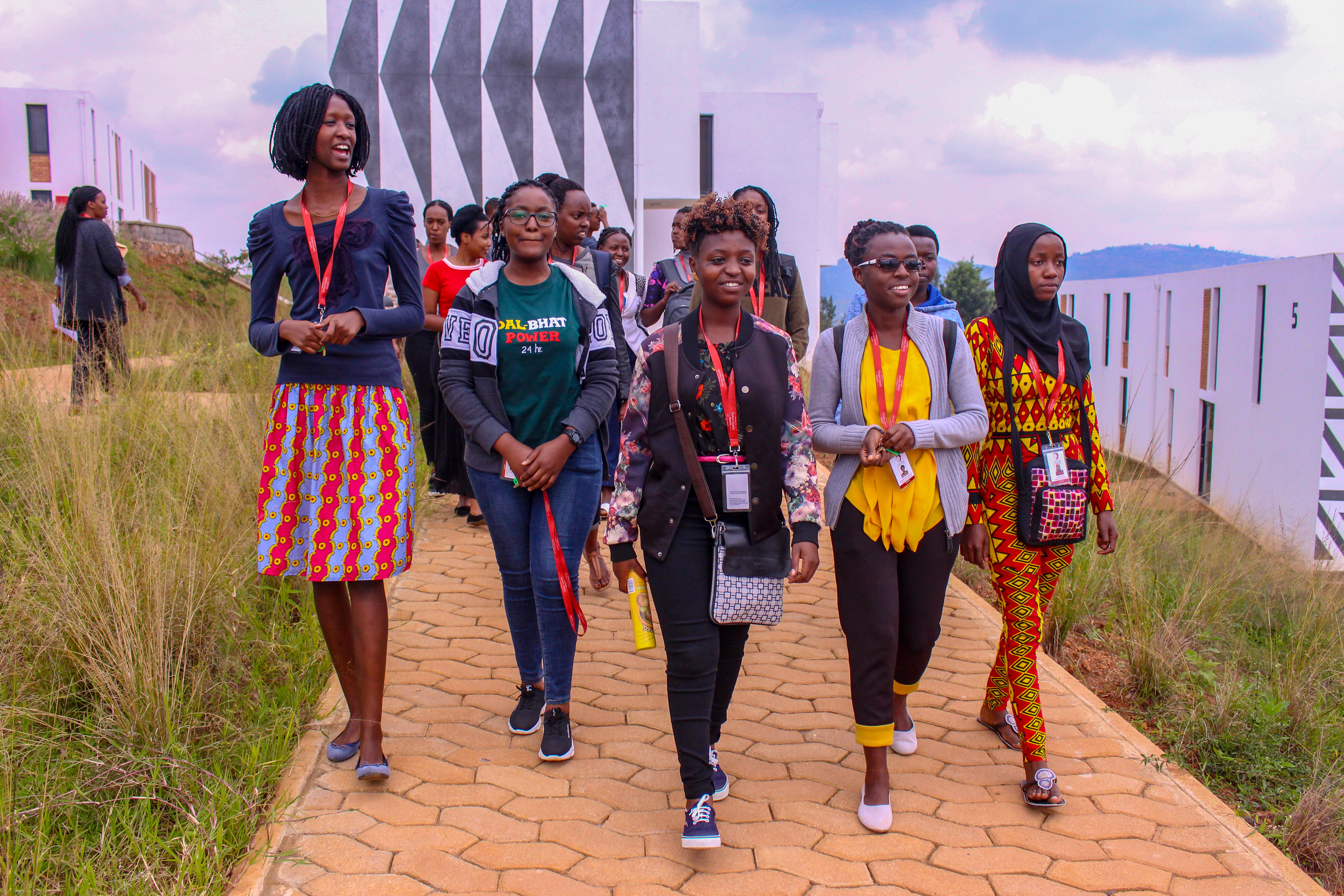 On July 7, 2019, UGHE welcomed the inaugural class of Bachelor of Medicine, Bachelor of Surgery/Master of Science in Global Health Delivery (MBBS/MGHD) students to the new campus in the Burera District in Butaro, Rwanda. The 30 students from across Rwanda drove up to Butaro for the first time, taking in the views of the rolling green hills and modern, Imigongo-adorned buildings that will serve as their home-base for the next six years.
"Now that the medical students have moved-in on campus, it feels like a bustling university" said Katie Letheren, UGHE Director of Campus Operations, "it's wonderful to see how the full-time MGHD students who moved here in January 2019 are already serving as welcoming campus ambassadors for the new medical class."
The official move-in marked the culmination of a rigorous construction process that took two years to complete. Building a medical school not only required dormitories, a dining hall, and all other living arrangements to prepare for student life, but also a modern simulation lab, state-of-the-art lecture halls, and a stocked medical library. What sets UGHE and this combined MBBS/MGHD apart in the world of health education is not only its innovative pedagogy, new technology, and world-class faculty but also its low student-to-faculty ratio, and the school's proximity to complex, rural health systems.
Launched in 2015, UGHE aims to improve health outcomes and health systems by training a new generation of doctors, nurses, and health professionals who strive to deliver more equitable care. UGHE has equipped emerging leaders with skills essential to recognizing and reducing inequities in health care. The launch of the University's first health sciences degree will further address the global need for more equitable and sophisticated health professionals.
The six-and-a-half-year MBBS/MGHD program–which begins with a six-month Preparatory Phase that helps students manage the transition into a university setting–integrates themes including patient care, health sciences, and social determinants of health with intensives and residencies in rural settings. The curriculum for the program will build upon the existing curricular requirements for medical doctors in Rwanda and East Africa, while leveraging teaching technologies and pedagogical innovations to engage students in active, applied learning. Central to all of UGHE's current and future programming is the hands-on experience that comes with working with patients and systems in a rural setting. UGHE's medical students will have easy access to an upgraded, full-functioning district hospital at which to learn and care for patients.
The incorporation of UGHE's flagship master's degree into the medical curriculum ensures graduates gain a solid foundation in the health sciences and clinical practice, while acquiring the knowledge and management skills needed to build and maintain effective and equitable health systems that many countries urgently need and that leaves no one out.
Additionally, gender equity was prioritized in the recruitment process for the first medical class, with a focus on increasing female doctors in the region and encouraging more young women to pursue careers in STEM. Equity in leadership goes hand-in-hand with equity in health. As a result, the incoming cohort is comprised of 20 women and 10 men, addressing gaps in inclusive health leadership at the academic starting-point.
"The inaugural cohort of the medical students are great. They are motivated, with a clear vision, and are ready to contribute to improving the health status of their country, leaving no one out" said UGHE Vice Chancellor, Dr. Agnes Binagwaho
Over the course of their orientation, the new students were greeted enthusiastically by staff and current MGHD students on campus, warmly welcomed by Vice Chancellor, Dr. Agnes Binagwaho and UGHE Inaugural Dean of Health Sciences, Dr. Abebe Bekele, and oriented to the life in Butaro community through discussions and a basketball game against Partners In Health Rwanda staff. As the sun set on their first evening in their new home, it dawned on a new generation of health equity champions.
To learn more about what compelled these students to pursue a career in medicine and what they look forward to the most about studying at UGHE, read the profile book below. If you are interested in supporting one of these talented young students, please click here.
UGHE MBBS-MGHD Class of 2025 Profile Book_final-digital-2