Bachelor of Medicine, Bachelor of Surgery
Six and a half-year, dual degree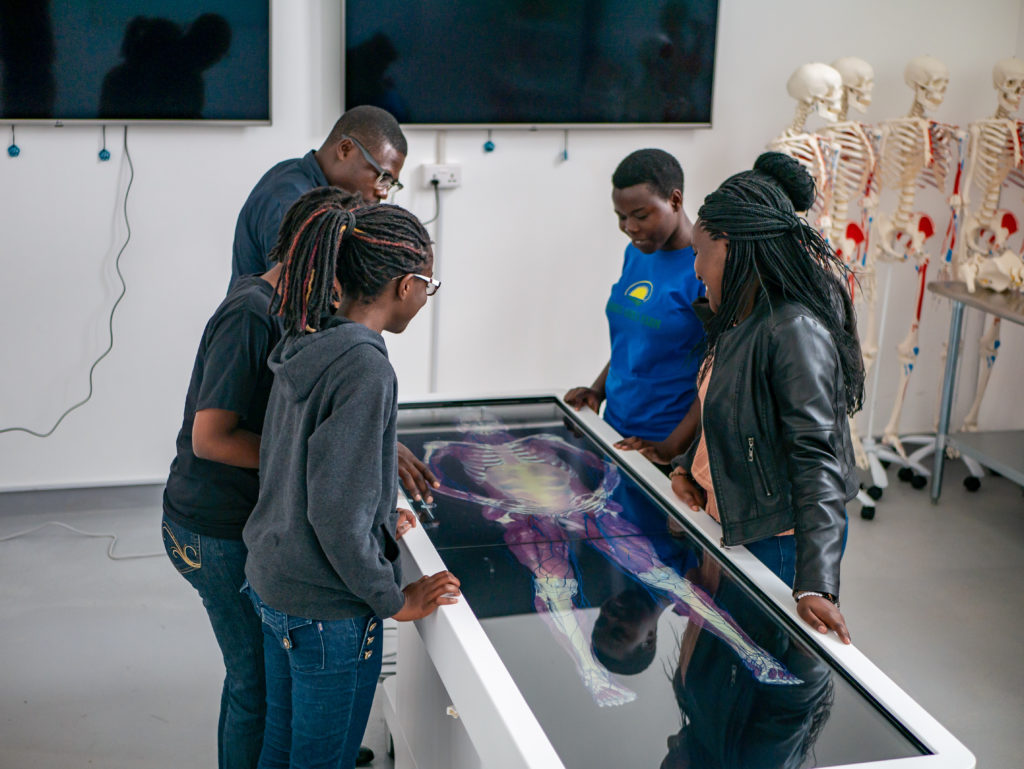 UGHE's joint Bachelor of Medicine, Bachelor of Surgery/Master of Science in Global Health Delivery (MBBS/MGHD) is a six and a half-year, bachelor's level medical degree coupled with a master's level global health degree. The MBBS/MGHD degree equips future physicians with state-of-the-art clinical knowledge and know-how, as well as the skills needed to effectively implement innovative public health solutions, lead and manage equitable health systems, and improve the delivery of care in communities across the globe.
Students' practical education in health care and delivery is honed in real-world scenarios by meeting and treating patients at home, in community health clinics, and in district and referral hospitals. UGHE's MBBS/MGHD curriculum integrates themes including patient care, health sciences, social determinants of health, leadership, and management. This dynamic mix of theory and practice will yield graduates prepared to diagnose and treat not just individual patients and the causes of disease–but improve entire health systems. The program begins with a six-month Preparatory Phase that helps students manage the transition into a university setting, teaching essential academic skills to ensure that all students are prepared for the rigors of medical school. Throughout the next four and a half years, students gain a solid foundation in the health sciences and clinical practice, as well as the knowledge and management skills needed to build and maintain effective and equitable health systems. The program culminates in a year-long intensive clinical internship and a hands-on practicum.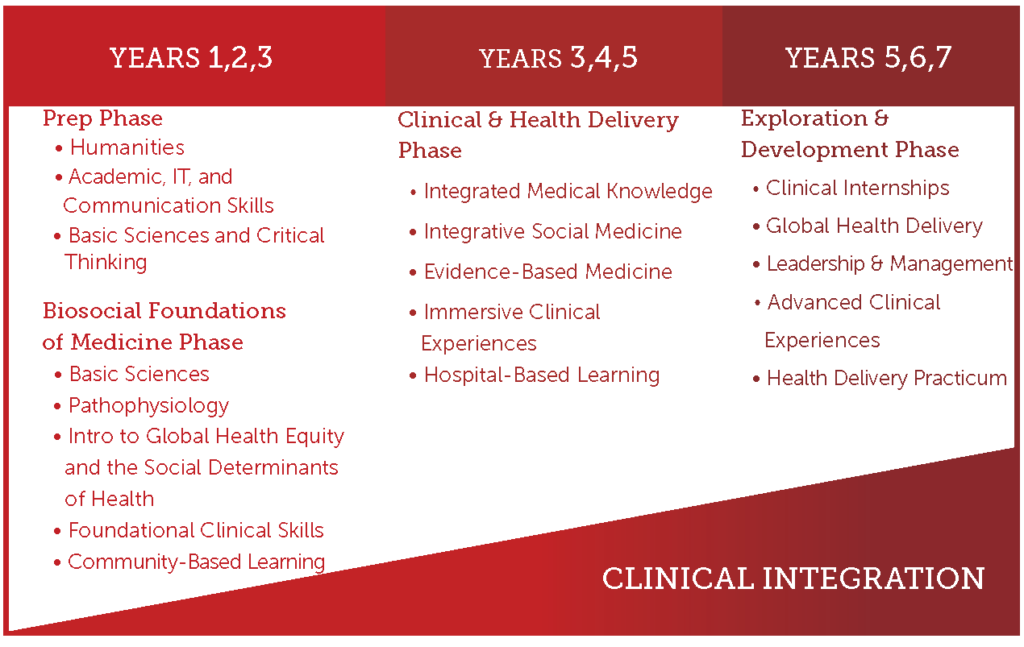 The figure above describes the four phases of the MBBS/MGHD program. Clinical work will gradually increase throughout the program. In the final two years of the MBBS/MGHD, students complete advanced clinical and leadership training and enter one-year Ministry of Health-designated internships.
UGHE's faculty of local and international implementation experts deliver world-class instruction that explores the social and systemic forces causing inequities and inefficiencies in health care delivery, preparing students to address some of the most challenging issues in global health. From the first week of instruction, students are immersed in a rural health care system where they learn from and work with nurses, community health workers, physicians, social workers, and patients and their families. Students benefit from an interactive education, with small class sizes in flexible, multi-use spaces that can be configured for unique learning experiences, increasing knowledge transfer, and encouraging collaboration. From the community to the classroom, students have access to educational resources – including new technologies and diverse faculty – that enhance their global health delivery training. Learn more about UGHE's campus.
Eligibility¹
Candidates who meet the following criteria by matriculation are eligible to apply for the MBBS/MGHD program:
Rwandan national or

non-Rwandan national with refugee status in Rwanda

Secondary (A Level) or high school diploma

National exam scores with an overall aggregate score of at least 60, and at least two principal passes with an aggregate score of at least 24 in the following subject combinations or equivalent

:*

Physics-Chemistry-Biology (PCB)

Math-Chemistry-Biology (MCB)

Biology-Chemistry-Geography(BCG)

Note: One of the principal passes must be in biology

Strong written and verbal English comprehension
Female applicants are strongly encouraged to apply²
The MBBS/MGHD program also welcomes candidates who hold an Advanced Diploma or bachelor's degree in nursing, laboratory science, pharmacy, radiography, anesthesia, or other field closely related to health care and meet the eligibility criteria outlined above. In addition to meeting the criteria outlined above, candidates falling under this category must also have demonstrated work experience in a health sciences or global health capacity in Rwanda.
The MBBS/MGHD program does not accept requests for transfer at this time.
Under special circumstances, candidates who do not meet the national exam aggregate score requirement but have two principal passes in biology and one other subject and an aggregate score of at least 40 may be considered for admission. Candidates with academic records from international institutions must seek an equivalency certificate from the Rwanda Education Board (REB).
*National exam and subject combination equivalencies to be determined by the Office of Admissions, Records, and Student Services.
Admissions
To apply for the MBBS/MGHD program, candidates will be asked to complete an online application and submit supplemental materials. Select applicants who advance in the process will be invited to sit for an entrance exam which includes English comprehension, math, and science assessments. Interviews will be held as the final round of the admissions process.
Tuition and Cost
At UGHE, we believe that a student's financial capacity should not determine her or his ability to become a clinician and a global health leader. Qualified applicants will be admitted into the MBBS/MGHD program irrespective of their ability to pay tuition. Upon admission, all MBBS/MGHD students will be enrolled in the Umusanzu program and will sign a tuition forgiveness agreement committing each to a specified number of years serving vulnerable populations.
For more information on UGHE's MBBS/MGHD program, please contact mbbs@ughe.org.
¹Students must be physically and mentally fit at all times throughout the duration of the MBBS/MGHD program. Therefore, students with an impairment may not be accepted into the MBBS/MGHD program. Impairment shall mean, as per the RMDC's Regulations for Indexing of Medical and Dental Students, "a physical or mental impairment, disability, condition, or disorder (including substance abuse or dependence) that detrimentally affects or is likely to detrimentally affect the medical/dental student's capacity to undertake clinical training," including, but not limited to, complete loss of vision, complete loss of hearing, serious musculoskeletal disabilities incompatible with the routine practice of medicine, and severe psychiatric or mental problems that may be detrimental to safe practice.
Physical and mental fitness for study and medical practice will be determined via a medical screening procedure performed by a licensed physician designated by UGHE's Office of Admissions, Records, and Student Services. Additionally, all admitted students will be required to undertake routine medical tests to ascertain physical and mental health abilities to undertake the medical program.
²UGHE is committed to operating a fair and transparent admissions process, devoid of any form of discrimination as outlined by Rwandan law. UGHE's MBBS/MGHD admissions process was developed in accordance with Rwandan law and policies sanctioned by the law, specifically Articles 15, 16, and 20 of the Rwandan Constitution (2003, revised in 2015); The Education Sector Policy (2003); The National Gender Policy (2010); The Higher Education Policy (2008); and The Girls Education Policy (2008).
UGHE will prioritize female applicants for admission to the MBBS/MGHD program, to the extent that applicable Rwandan laws and policies are respected in the best interest of both the Rwandan community and gender equality policies. The prioritization/treatment shall not constitute any form of discrimination that is prohibited under Rwandan law, nor can it be construed to imply that UGHE will admit any candidates who are not qualified for entry into the program.