Joyce and Bill Cummings Host Matching Gift Campaign for UGHE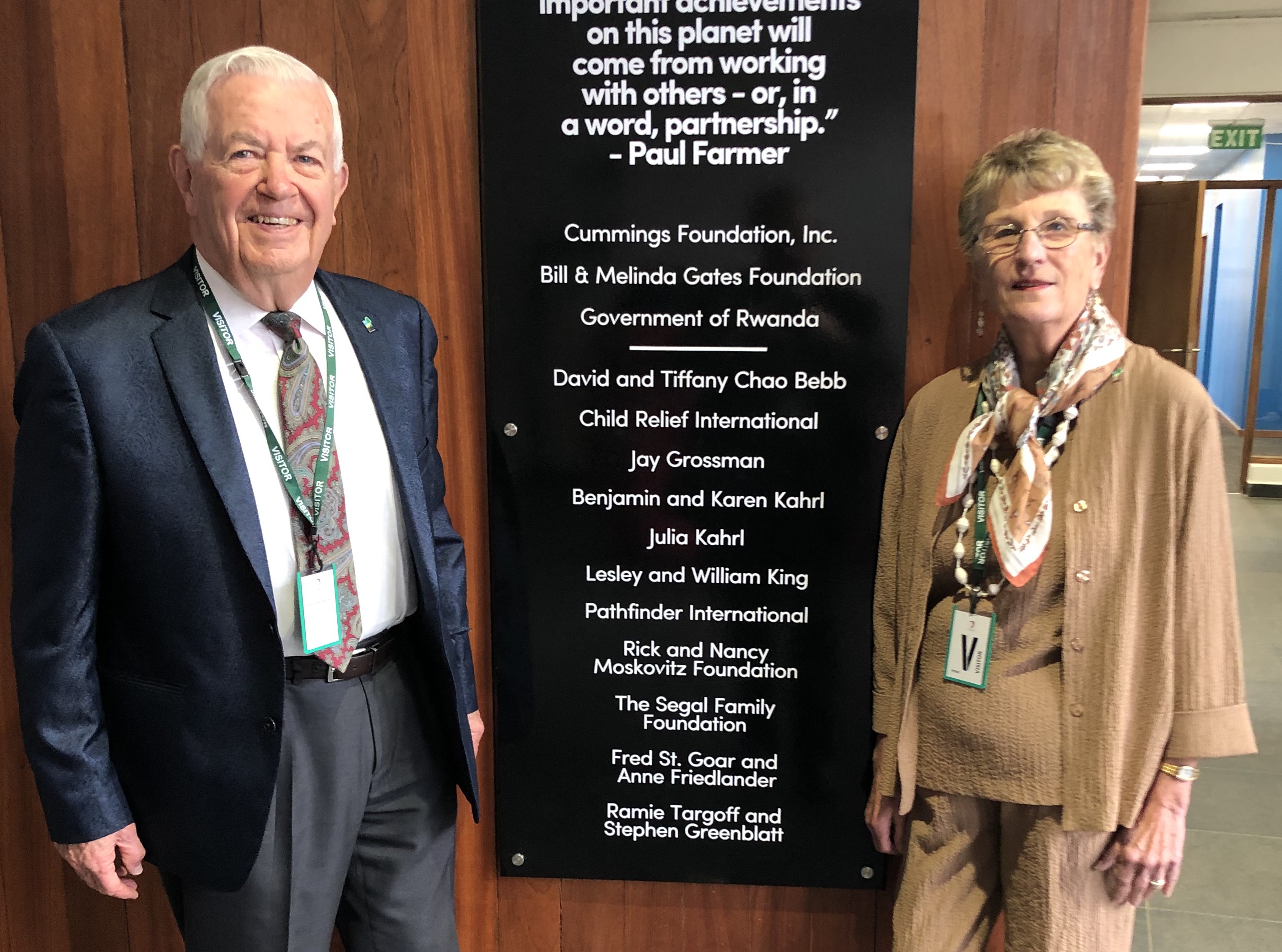 At the end of January, in the midst of University of Global Health Equity's biggest milestone yet – the opening of the new Butaro Academic Campus – Boston-area philanthropists Joyce and Bill Cummings announced a generous donation to UGHE through a dollar-for-dollar matching gift campaign of up to $10 million, referred to as the Butaro Launch Fundraising Challenge.
The campaign ran until early February and mobilized over $10 million in donations, which were matched by Bill and Joyce, bringing the total to almost $21 million. This represents the second gift the Cummings have made to UGHE and will fund financial aid for low-income students, launch new leadership training programs, expand academic research and ultimately improve quality health service delivery around the world.
"In addition to providing a venue for the excellent training of much-needed health care professionals, UGHE is sure to become a major economic engine within Rwanda, which itself is becoming the economic center of sub-Saharan Africa," said Bill Cummings.
Starting in 2014, Cummings Foundation and Bill and Melinda Gates Foundation provided $30 million in initial funding to launch the University. However, the Cummings investment in UGHE extends far beyond financial capacity. The Cummings were integral thought partners for UGHE's strategic planning and influenced the University's One Health focus. UGHE has since named the Bill and Joyce Cummings Institute of Global Health, which will house the flagship Master of Science in Global Health Delivery, in recognition of the critical role Joyce and Bill played in the inception of the University.
"Joyce and Bill have provided visionary leadership to UGHE since the beginning," said Vice Chancellor Agnes Binagwaho. "Their contributions will have a ripple effect on the communities that the graduates of UGHE will serve. We are grateful for their enduring partnership."
As the first matching gift campaign for the University, champions of UGHE made donations at varying levels, ranging from $50 to several million. The campaign also catalyzed UGHE's first-ever alumni gift. Theoneste Nkurunziza, MGHD '17, a Health Research Manager at Partners In Health's sister organization in Rwanda, Inshuti Mu Buzima, and a member of UGHE's pioneering cohort says he was inspired to give back as a way to both thank the University for the knowledge he has gained and to show his support for future classes.
"I strongly believe that education bears the best return on investment," explains Theoneste. "I see first hand, from the peers in my cohort to the graduates who will come after us, that UGHE is producing change agents who bring positive impact into communities who need it most."
The Cummings support continues to enable UGHE to expand academic programs, further support young students, and change the way the world thinks about health education–all of which will produce dividends for years to come.
About Cummings Foundation:
Joyce and Bill Cummings launched Cummings Foundation, Inc. in 1986. Though the Foundation primarily focuses on nonprofits in eastern Massachusetts, the Cummings have a special interest in Rwanda, where early beneficiaries include Agahozo-Shalom Youth Village, Kigali Genocide Memorial, and Partners In Health.